I bought a new car recent­ly (blame the dis­tract­ed dri­ver who rear-end­ed me while I was at a full stop.) My new, cer­ti­fied used car is essen­tial­ly a com­put­er on wheels—not the replace­ment car I had in mind. How­ev­er, of all the used cars the deal­er had in stock, this one was in the right price-range. Turns out, all the newish makes and mod­els are loaded with tech.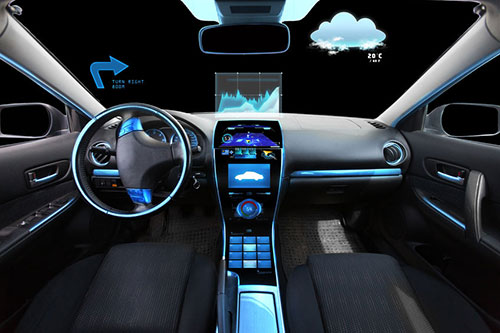 The sales per­son was thrilled to let me know the car was equipped with Blue­tooth (what?), could be linked to my cell phone (huh?), and gave me the capa­bil­i­ty to view films while driving—as if I were hon­est­ly inter­est­ed in split­ting my atten­tion between, say, Mis­sion Impos­si­ble and the road before me. No. Thanks. As for Blue­tooth, I won't be using that, or most of the oth­er tech good­ies avail­able. I find them all too dis­tract­ing from, you know, Dri­ving. The sales per­son was espe­cial­ly dis­ap­point­ed that he would­n't be able to link my car to my smart phone because—gasp—I don't have one.
I'm strict­ly a flip-phone woman. Yes. You read that right. That means I can't surf the Inter­net or check my emails every two sec­onds, but I don't need to, any­way. Who does? (Well, being able to search for near­by restau­rants could come in handy when I'm hun­gry. Still.) My flip-phone allows me to make and take phone calls, send and receive texts, and access mes­sages. What more do I need? "Apps!" you say. Well, apps might be fun, even use­ful at times. But nec­es­sary? Vital? I don't think so. Call me crazy, but I actu­al­ly man­age to nav­i­gate the world with­out apps.
My shut­tle dri­ver tries to shame me into get­ting on the smart-phone band­wag­on. I'll ask her some­thing like, "What ter­mi­nal is my flight leav­ing from?" Since get­ting me to the right ter­mi­nal is part of her job, this is infor­ma­tion I expect her to have. Instead of just telling me, how­ev­er, she launch­es into, "If you had a smart phone, you could find out your­self, because there's an app for that." Really?
I get that the new tech is con­ve­nient, but there are a myr­i­ad of ways to get the infor­ma­tion I need with­out cast­ing myself off the high-tech bridge and get­ting caught in the whirlpool of apps, games, and social media con­nects on-the-go.
I came late to the dig­i­tal par­ty, kick­ing and scream­ing all the way. I've found much of it use­ful as a pro­mo­tion­al tool for my busi­ness, but I'm also painful­ly aware of its time-steal­ing poten­tial. Let's face it, the Inter­net is addic­tive. I waste enough time on social media at home, as it is. Must I now also take it with me on the road? I think not. Beyond the basic cell phone, I don't need tech that fol­lows me out of the house. Lim­its must be set.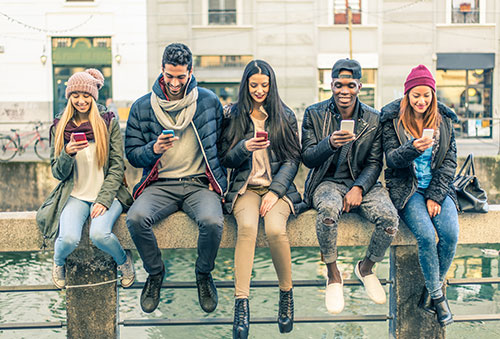 What dis­turbs me most about all the new tech, though, is its neg­a­tive impact on social inter­ac­tion. Too often, I'll walk into a room where two peo­ple, seat­ed a few feet apart, are con­nect­ing with each oth­er (you can't real­ly call it com­mu­ni­cat­ing) via their devices. The same is true of peo­ple on lunch and din­ner dates. The par­ties might as well be seat­ed at sep­a­rate tables, for all the gen­uine con­nec­tion being made. They're all too busy slav­ish­ly check­ing their phones between bites of food they aren't tak­ing time enough to ful­ly enjoy. What is the point? What ever hap­pened to con­ver­sa­tion? I miss con­ver­sa­tion. And eye con­tact. And hav­ing a com­pan­ion's full atten­tion. Sigh.
I know a good many peo­ple who feel quite over­whelmed by con­stant waves of new tech lap­ping at the shore of human imag­i­na­tion. We for­get that there are shut-off switch­es, that no one is hold­ing a gun to our heads forc­ing us to use the lat­est app dropped into the dig­i­tal uni­verse. Those who feel over­whelmed com­plain that they don't have enough time for their art, for their spous­es, for their chil­dren, for—fill in the blank. But if they weren't con­stant­ly plugged into their var­i­ous devices, play­ing games, explor­ing the lat­est new app, check­ing email and mind­less­ly scrolling through social media news­feeds sev­er­al times a day, they'd have more of the time they crave. How do I know this? (Behind on a dead­line, any­one?) As I've already admit­ted, I'm scrolling right along with the rest of the crowd! It's a habit I'm deter­mined to break.
High tech, low tech, no tech—whatever we choose, it's a trade-off. We can choose more con­ve­nience and con­nec­tion, but the cost is less secu­ri­ty, and less oppor­tu­ni­ty for gen­uine, inter­per­son­al com­mu­ni­ca­tion. If we choose less con­ve­nience and less broad-based, or abbre­vi­at­ed con­nec­tion, we mul­ti­ply the time we have for deep per­son­al com­mu­ni­ca­tion, for mind­ful liv­ing, for art, for greater aware­ness of our surroundings.
It all comes down to time, the most pre­cious com­mod­i­ty we have. How we use it, and how much of it we have to use, is very much bound up with the choic­es we make con­cern­ing high tech, low tech, or no tech. Take your pick. It real­ly is a choice.
I look up all the time. I notice the clouds dance across the sky, the Mag­no­lia blooms spilling their vanil­la scent, the rash of mush­rooms fol­low­ing a rain, the hum­ming­bird nuz­zling a rose. Do you?