A recent blog by Sal­ly Lloyd-Jones got me think­ing about a ques­tion we authors hear some ver­sion all the time: Where do you get your ideas, or how do you come up with ideas for your sto­ries? The ques­tion would sug­gest that there's a trea­sure trove, some­where, packed with sto­ries ready for the tak­ing. Or that there's a place one could go, a repos­i­to­ry one can sim­ply dip into, at will. But, the truth is, sto­ry ideas are more elu­sive than that. Their source is far less pre­dictable, more a mat­ter of mag­ic, or of serendip­i­ty. An idea might spring from a peri­od of fast­ing, or flash of insight dur­ing a med­i­ta­tive state, or result from lit­er­al­ly trip­ping over an object that brings that idea to mind. No mat­ter the ori­gin of an idea, or the vehi­cle that brought it to you, that idea, that sto­ry, is a gift.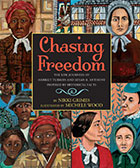 I've been think­ing about my newest title, Chas­ing Free­dom, releas­ing in Jan­u­ary 2015, and try­ing to trace it's ori­gins. The ini­tial idea came to me while I was busy work­ing on some­thing else. The some­thing else was a series of dra­mat­ic mono­logues for a the­ater pro­duc­tion to be per­formed in Chi­na, in 1988. The theme of the show was Amer­i­can His­to­ry, and so I chose as my sub­jects Fred­er­ick Dou­glass, Har­ri­et Tub­man, and Susan B. Antho­ny. In the midst of research­ing their sto­ries, and craft­ing their mono­logues, I became excit­ed to learn that they not only lived at the same time, but all knew each oth­er. One day, while thumb­ing through these his­to­ries in the stacks of the Dohe­ny Library at USC, I sud­den­ly thought, "I won­der what it would be like if Har­ri­et Tub­man and Susan B. Antho­ny sat down for a talk." That notion was the seed that even­tu­al­ly led to my writ­ing Chas­ing Free­dom. I was­n't look­ing for an idea, mind you. It sim­ply arrived of its own! A gift.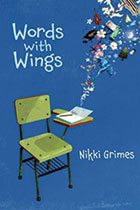 I turned my thoughts to Words With Wings, a nov­el-in-verse about day­dream­ing, and I tried to trace the ori­gins of that sto­ry. This task was more dif­fi­cult, because the gen­e­sis of the idea was much less straight­for­ward. Over the years, I'd read or heard com­ments by teach­ers about the impor­tance of nur­tur­ing the imag­i­na­tion; read or heard Steve Jobs bemoan the fact that chil­dren are no longer encour­aged to day­dream; read or heard name­less oth­ers com­ment on this sub­ject, in one way or anoth­er. Some­where along the line, this train of thought stuck, and I began think­ing about my own child­hood, and how impor­tant day­dream­ing had been in my own for­ma­tion, and lat­er suc­cess, and I real­ized how much I want­ed that for the chil­dren I serve through my work. Out of this thick soup of essays, arti­cles, off-hand com­men­tary, and per­son­al mem­o­ries grew the idea for a nov­el about a day­dream­er. So there.
The ori­gin of the idea for my next book, Poems in the Attic, out next spring, is a bit clear­er, but not much. I watch the night­ly news as much as any­one, and I've noticed a bar­rage of sto­ries about our mil­i­tary over the recent years. With troops in Afghanistan, Iran, and Iraq, espe­cial­ly, this last decade has pro­duced miles of video­tape about sol­diers. I espe­cial­ly noticed the pre­pon­der­ance, of late, of images on tele­vi­sion of sol­diers return­ing home, snug­gling with their chil­dren after long tours away, images of both fathers and moth­ers in uni­form, near­ly wres­tled to the ground by chil­dren so excit­ed to have them home, again. These images stuck. Then, there was the show Army Wives, which brought these themes into my liv­ing room week­ly. Besides the above, there's the fact that sev­er­al of my friends reg­u­lar­ly share child­hood sto­ries of grow­ing up as mil­i­tary brats. At some point, a cou­ple of years ago, I start­ed think­ing about the increas­ing num­ber of chil­dren who have to nego­ti­ate the uncer­tain­ty of life with a par­ent in the mil­i­tary, and I won­dered if I might offer some small col­lec­tion of poet­ry that would speak into that. Hence, the sto­ry-in-verse book, Poems in the Attic.
The answer to the ques­tion of where sto­ries come from is rather ran­dom, isn't it? It's mys­te­ri­ous. It's mag­i­cal. It's sim­ple: a sto­ry, and the idea that gives birth to it, is—a gift. Yeah. That sounds about right.