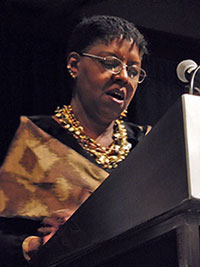 When I was young, I was often bul­lied for "talk­ing white." That's the way my pre­cise enun­ci­a­tion, robust vocab­u­lary, and pol­ished use of the Eng­lish lan­guage were cat­e­go­rized by oth­ers in the Black com­mu­ni­ty. At the oth­er end of the racial spec­trum, sev­er­al white teach­ers ques­tioned the author­ship of my com­po­si­tions because they were "too well writ­ten." As for my abil­i­ty to speak, they would raise their eye­brows in utter sur­prise and say, "My! You are so artic­u­late!" The left-hand­ed com­pli­ment was nev­er lost on me: as a Black girl, I was not sup­posed to be artic­u­late. When­ev­er a white per­son would call me artic­u­late, I'd think to myself, "and why would­n't I be?" Eng­lish was, by far, my best sub­ject, I prac­ti­cal­ly lived in the library, had a grand­moth­er who got on my case every time I mis­tak­en­ly said, "Can I", rather than "May I," both my nat­ur­al par­ents were avid read­ers, as were the fos­ter par­ents I stayed with the longest, my moth­er had ora­to­ry skills, and my father was no slouch in that depart­ment, either. Chances were pret­ty good that some of that would have result­ed in my being fair­ly well-spo­ken. Just saying.
I went on to uni­ver­si­ty, grad­u­at­ed with a degree in Eng­lish, and a minor in African lan­guages, won a Ford Fel­low­ship to study in East Africa, and returned to the U.S. to begin build­ing a writ­ing career. Strange­ly enough, I con­tin­ued to be fre­quent­ly "com­pli­ment­ed" on my abil­i­ty to string words togeth­er in a pleas­ing fash­ion. Now, 40+ years into a respectable career as an author spe­cial­iz­ing in poet­ry, and as a speak­er, I am, appar­ent­ly, still aston­ish­ing white peo­ple with my abil­i­ty to be artic­u­late. And I'm not the only well-read, well-trav­eled, well-edu­cat­ed Black per­son singing this song.
In all the years that I have giv­en keynotes at major con­fer­ences across the coun­try and abroad, or shared pan­els with white authors, or spo­ken at book fes­ti­vals and lit­er­ary con­fer­ences, I can nev­er once recall hear­ing a white author praised for being artic­u­late, though most of them were. The dif­fer­ence, in case you haven't caught on, is that they were expect­ed to be artic­u­late, so there was no obvi­ous need to remark upon the fact.
Mind you, I whole­heart­ed­ly appre­ci­ate some­one telling me fol­low­ing an in-per­son or vir­tu­al keynote, or pan­el pre­sen­ta­tion, that my words moved them deeply, or that I said some­thing that made them see the world in a new way, or that my words were inspir­ing or even pow­er­ful, or that you found my word choice exquis­ite. (No one has actu­al­ly said that last thing, but feel free!) Who would­n't love that? But that's sub­stan­tial­ly dif­fer­ent from "com­pli­ment­ing" an author and poet who makes her liv­ing as a pro­fes­sion­al word­smith and speak­er, by saying—always with a hint of sur­prise and empha­sis on the last word—"You're so artic­u­late." Imag­ine prais­ing a tai­lor for sewing straight seams, or com­pli­ment­ing a sur­geon for deft­ly han­dling a scalpel, or con­grat­u­lat­ing a lawyer for know­ing the law, or applaud­ing a min­is­ter for famil­iar­i­ty with Holy Scrip­ture. Lord, give me strength!
Chris­tine Mallinson, pro­fes­sor of lan­guage, lit­er­a­cy, and cul­ture at the Uni­ver­si­ty of Mary­land, Bal­ti­more Coun­ty, had this to say to Busi­ness Insid­er: "When a white col­league tells a col­league of col­or 'You're so artic­u­late' or 'You speak so well,' the remark sug­gests that they assumed the per­son in ques­tion would be less articulate—and are sur­prised to find out they aren't." Pause for a moment and take that in.
Black folk already nav­i­gate a world lit­tered with loaded lan­guage, cod­ed phras­ing, and microag­gres­sions. (And there's a sep­a­rate set of microag­gres­sions women have to con­tend with that focus on things like body image, but that's not my focus here.) "You're pretty—for a black girl." "Is that your real hair?" "Where are you actu­al­ly from?" "You're not like them." "You're good with your hands." "Your Eng­lish is so good!" (Yes, I've actu­al­ly been told that.) Ouch!
There are always assump­tions that I sub­let my home, rather than own it, and that my nice car is a rental. When I step into the pri­or­i­ty lane to board a plane at the air­port, my right to occu­py that space is fre­quent­ly ques­tioned. When I enter a cloth­ing store, or a bou­tique of any kind, I am auto­mat­i­cal­ly fol­lowed around the premis­es, mere­ly based upon the assumption—unspoken or otherwise—that I am there to steal, rather than pur­chase, merchandise—this no mat­ter how metic­u­lous my attire at the time. I won't even begin to tell you the num­ber of apart­ments I lost, back when I was a renter, sim­ply because my skin is black. Occa­sion­al­ly, just for fun, I would have a white friend apply for an apart­ment after I'd been told it was no longer avail­able. Every sin­gle time, the mirac­u­lous­ly still avail­able apart­ment was offered to that white friend. Sigh.
This is some of why being Black in Amer­i­ca can be so damn tire­some. But I'm not about to give up my beau­ti­ful black skin, or the rich her­itage of my peo­ple in the fields of sci­ence, math­e­mat­ics, art, music, fash­ion, acad­e­mia, sports, eco­nom­ics, entre­pre­neur­ship, med­i­cine, lit­er­a­ture, and beyond. Against all odds, Black peo­ple have sur­vived and thrived in this coun­try, and I stand among them.
I enjoy my work as a poet, author, and speak­er, and hope to con­tin­ue this work for some years to come. As always, I look for­ward to meet­ing fans vir­tu­al­ly, or in per­son once it's again safe to trav­el, and to gath­er at con­fer­ences and book fes­ti­vals. I will wel­come any warm, kind words you choose to share with me fol­low­ing my pre­sen­ta­tions. That said, let me be clear: if you con­tin­ue to find it shock­ing that I'm artic­u­late, might I sug­gest you ask your­self why. In the mean­time, should the idea of prais­ing any Black per­son for being artic­u­late cross your mind, please con­sid­er instead telling us what our words have meant to you, how you have been moved or touched by them, or how our words have inspired, chal­lenged, or lift­ed you up. Those are true com­pli­ments we'd be more than hap­py to hear, any day of the week.