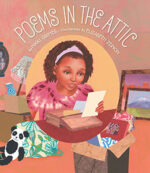 A pic­ture book is not com­plete with­out the art, and I've been for­tu­nate to have my books illus­trat­ed by some of the finest artists in the chil­dren's book business.
My newest pic­ture book, Poems in the Attic, was illus­trat­ed by Eliz­a­beth Zunon. Recent­ly, I asked her a few ques­tions about this project, and why she chose it. She respond­ed by giv­ing me a peek into her process! Enjoy.
Q: What made you want to illus­trate this book?
A: I real­ly iden­ti­fied with the theme of trav­el dur­ing child­hood! I was born in Albany, NY, but my father is from the Ivory Coast, West Africa. My fam­i­ly and I lived there until I was twelve years old but came back to the States almost every sum­mer, so it seems like we were always hop­ping on a plane to go some­where! I also iden­ti­fied with the daugh­ter learn­ing about her moth­er's life through her child­hood poems. When I was in col­lege, I was giv­en a box of let­ters writ­ten by my moth­er to her par­ents while she was in col­lege. I dis­cov­ered that my moth­er and I had a lot of the same thoughts and feel­ings about life!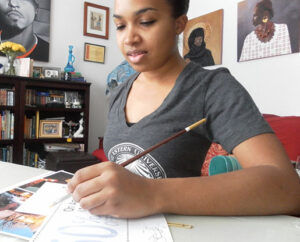 Q: What were your pri­ma­ry chal­lenges in cre­at­ing the art for Poems in the Attic?
Mak­ing sure that the moth­er looked like her­self, slow­ly aging from child­hood to teenage-hood to adult-hood on the last page took a lot of lit­tle tweaks. Also, keep­ing the two sto­ries sep­a­rate on each page was a very inter­est­ing design chal­lenge to solve. But it was great fun! Illus­trat­ing each page was like try­ing to put togeth­er a puzzle.
Q: Do you find poet­ry eas­i­er or hard­er to illus­trate than prose? Why/why not?
Yes, I do find poet­ry a lit­tle eas­i­er to illus­trate than prose. I find that my mind's eye wan­ders a bit fur­ther while read­ing poet­ry, giv­ing me more free­dom when I'm mak­ing the cor­re­spond­ing art.
Q: What was your process for cre­at­ing the art for Poems in the Attic?
I first looked at many ref­er­ence pho­tos of the places in the book, as I'd nev­er been to most of them. ( I did go to New Mex­i­co and vis­it the White Sands Nation­al Mon­u­ment after fin­ish­ing the book, though!) Next, I drew lit­tle thumb­nail sketch­es (with very sim­ple shapes) of each page to fig­ure out the design and com­po­si­tion of each image. I then took pho­tographs of myself pos­ing as the char­ac­ters in each illus­tra­tion so I would have real­is­tic ref­er­ence images to work from. I drew detailed sketch­es for each page, then trans­ferred my sketch­es to spe­cial paper and pro­ceed­ed to paint the illus­tra­tions. Last­ly, when all of the oil paint was dry, I added cut paper col­lage ele­ments to the illus­tra­tions fea­tur­ing the lit­tle girl read­ing her moth­er's poems.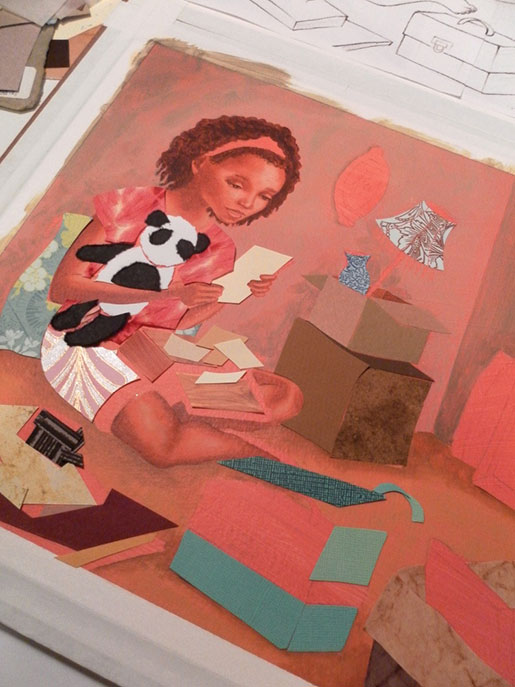 Q: What do you have com­ing up next?
I'm work­ing on a book about a lit­tle girl spend­ing time with her great-grand­moth­er, who is very prick­ly and a lit­tle scary on the out­side. The girl learns that great-grand­moth­er is this way because of all of the his­to­ry she has lived through as an African-Amer­i­can grow­ing up in the Unit­ed States. It will be pub­lished by Lern­er in 2016.