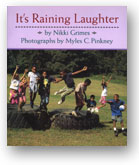 If there's such a thing as a back­wards approach to cre­at­ing a pic­ture book, I'm some­thing of an expert. On three sep­a­rate occa­sions, I've craft­ed books in pre­cise­ly that way. First, there was Some­thing On My Mind, with art by Tom Feel­ings. Next came From a Child's Heart, with art by Bren­da Joy­smith. And last was It's Rain­ing Laugh­ter, with pho­tographs by Myles Pinkney (yes, that's right, of the Pinkney clan, a dynasty in the chil­dren's book world). The lat­ter is the sub­ject of this week's blog.
It's Rain­ing Laugh­ter is a col­lec­tion of col­or pho­tographs and poet­ry, orga­nized around the theme of joy. Mind you, when I first began work on this project, there was no theme. There were no poems. There was not even the hint of an idea for a book, as far as I could see. It's Rain­ing Laugh­ter began with the visuals.
An edi­tor at Dial Books, with whom I'd pub­lished pre­vi­ous­ly, sent me a binder of pho­tographs by Myles Pinkney and asked me to con­sid­er cre­at­ing a sto­ry­line to turn these loose pho­tographs into a book for young read­ers. I liked the pho­tos I saw, but did­n't find any con­nect­ing theme that I could work with. Was it pos­si­ble, I won­dered, if Myles could send me addi­tion­al pho­tos? The answer was yes. The prob­lem, though, was know­ing what kinds of pho­tos to ask for. I was­n't at all sure since I had, as yet, no theme. "Just start send­ing me pho­tos of chil­dren," I said to Myles, "and I'll tell you when to stop, all right?" This was a very unortho­dox way to work, but Myles gra­cious­ly agreed.
As the pho­tos came in, I taped them to a wall of my apart­ment, even­tu­al­ly cov­er­ing the wall com­plete­ly. I prob­a­bly had close to a hun­dred pho­tos by the time a germ of an idea began to form.
Day and night, I stud­ied the pho­tos, and I found myself drawn to the images that were hap­pi­est, images of chil­dren play­ing, run­ning through sprin­klers, climb­ing, explor­ing, and laugh­ing. It sud­den­ly came to me that joy was the ele­ment that con­nect­ed them all, and so that became my theme.
That decid­ed, I culled the pho­tos I most want­ed to use, then focused on cre­at­ing a nar­ra­tive about the child, or chil­dren, cap­tured in each pho­to. I draft­ed the nar­ra­tive in para­graph form, at first, then worked to craft each nar­ra­tive into a poem.
Once I had the pol­ished draft, I sent it to my edi­tor. She and the art direc­tor made the final selec­tion of pho­tos, but they did end up using rough­ly 85–90% of the pho­tos I'd chosen.
What a fun project! I love the idea of mar­ry­ing poet­ry to art or pho­tographs. I look for­ward to doing so again.
Have you ever read It's Rain­ing Laugh­ter? Here's one of my favorite poems from the collection.
The Laugh­ing Bug
I caught the laugh­ing bug
the oth­er day.
Who spread the germ to me
it's hard to say.
My broth­er told
a yucky mon­ster story,
and had to laugh himself
it was so gory.
My sis­ter squealed
with joy, and gig­gled when
Dad tick­led her. Did I
start laugh­ing then?
Some­one infect­ed me
with glee that day.
I won­der if God's love
could spread that way.