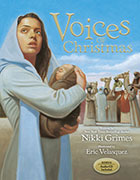 My edi­tor at Zon­der­van asked if I was inter­est­ed in writ­ing a retelling of an Old Tes­ta­ment sto­ry like David and Goliath, or Noah and the Ark. I said no thanks. Nei­ther inter­est­ed me, but I thought it might be fun to fig­ure out a fresh way to tell the Christ­mas sto­ry. What if I told the sto­ry in the voic­es of the char­ac­ters who were cen­tral to it? That was the ques­tion that led me down the rab­bit hole of my imag­i­na­tion. Voic­es of Christ­mas, a sto­ry in poet­ry, was the result.
Truth be told, this approach was not as big a leap as you might imag­ine. A cou­ple of years ear­li­er, I'd writ­ten the East­er sto­ry in a sim­i­lar fash­ion. That book, titled At Jerusalem's Gate, explored East­er from the points of view of priests, dis­ci­ples, Pon­tius Pilate, Pilate's wife, and a host of oth­er char­ac­ters one meets in the tra­di­tion­al sto­ry. The Christ­mas book, though, was unique in that it was told not only from the point-of-view of the char­ac­ters, but was writ­ten strict­ly in their voic­es, as well. This approach takes the read­er more deeply into the sto­ry. When you hear the char­ac­ter speak, you are bet­ter able to view the unfold­ing mys­tery of Christ­mas through each char­ac­ter's eyes.
It's always a bit weird try­ing to fig­ure out what kind of lan­guage to use when writ­ing about peo­ple who lived thou­sands of years ago, and who spoke a very dif­fer­ent lan­guage than your own. But then again, that's part of the chal­lenge, and part of the fun.
Cre­at­ing details of the envi­ron­ment was helped by research, and by draw­ing from notes I'd tak­en on a trip to Israel. There's sim­ply no sub­sti­tute for walk­ing on the same ground where your char­ac­ter's trod.
As always, I strove to climb into the skins of my char­ac­ters, and to view the world through their eyes. One thing I'd nev­er con­tem­plat­ed, though, was climb­ing into the skin of an angel! It seemed only nat­ur­al, though, because Gabriel is the one who intro­duces us to the core of the Christ­mas sto­ry: it is Gabriel who brings Mary the mes­sage of the Christ child, soon to be born through her.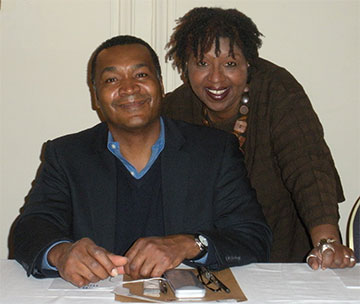 Gabriel is one of my favorite char­ac­ters in the Bible, and in this book. Illus­tra­tor Eric Velazquez used him­self as the mod­el for Gabriel, and I love the result!
I decid­ed to arrange the poems sequen­tial­ly, so that the sto­ry would move from prophe­cy to ful­fill­ment. I want­ed the sto­ry to unfold for the read­er as is it were hap­pen­ing in real time. The hope was that the read­er would feel a part of the sto­ry. To under­score that idea, I address the last poem to the read­er. After intro­duc­ing Gabriel, Mary, the shep­herd, the Inn Keep­er, three Magi, King Herod, and the rest, I ask the reader:
And who are you?
Not an angel, no.
Nor Herod.
But per­haps you are
a magi, map­ping the miracle
on a chart of stars;
a shep­herd
trad­ing sleep
for a chance to seek
a gold­en child
in swad­dling clothes;
a Sime­on
who has hoped for a lifetime
to find the one called
Emmanuel, God with us.
Or are you like Mary,
prayer­ful­ly waiting
for the King of Kings
to be born in you?
Well, He is here!
Sing! Sing "O, Holy Night."
Run toward His Light!
Once the sto­ry was com­plete, voice artist Craig North­cutt and I record­ed the text. A bonus CD of that read­ing accom­pa­nies each copy of the book.
As I wrote and record­ed Voic­es of Christ­mas, I imag­ined chil­dren and fam­i­lies gath­ered togeth­er, shar­ing these poems, one by one, as they count down the days of Advent.
A girl can dream, can't she?