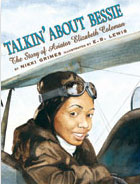 The Book that Almost Was­n't: That could be the title of this book. The jour­ney from con­cept to book­shelves is a bit of a saga. Some books are hard­er to birth than oth­ers, and Bessie was a book-baby in breach! I'll explain.
It seems like for­ev­er ago that then Orchard edi­tor Melanie Kroupa asked me to think about writ­ing a black biog­ra­phy. I told her not to get her hopes up, because his­tor­i­cal books were not my forté. As far as I was con­cerned, when it came to biogra­phies of black his­tor­i­cal fig­ures, the McKis­sacks had that sub­ject mat­ter sewn up. I did­n't feel I could real­ly con­tribute any­thing of val­ue to the genre. But I agreed to do a lit­tle research to see if there were a his­tor­i­cal fig­ure of par­tic­u­lar inter­est to me. Enter Bessie Coleman.
Thumb­ing through an ency­clo­pe­dia of African Amer­i­can His­to­ry, I came across a para­graph or two about pilot and aeri­al­ist Eliz­a­beth "Bessie" Cole­man. A pilot from the barn­storm­ing era, and the first licensed African Amer­i­can woman pilot at that, Bessie had my full attention.
My ini­tial excite­ment was tem­pered, though. Sure­ly there was already a book about her for young read­ers, right? Wrong. At that time, the only in-depth book about Bessie on the mar­ket was Queen Bess, an adult biog­ra­phy by Doris Rich. Once I knew that, I was off and running.
I told Melanie about my dis­cov­ery and got the green light to write the book.
My first draft was a straight prose treat­ment of her sto­ry. It might have remained so, but as I dug in to work on the sec­ond draft, I got wind of two oth­er Bessie man­u­scripts for young read­ers being shopped around. I did­n't know who had writ­ten them, but that was almost unim­por­tant. My con­cern was that my own would no longer be the only chil­dren's book about Bessie hit­ting store shelves.
I went to my edi­tor and voiced my con­cern. "Do you still want me to write this book?" I asked her. "Yes," she said. "Our book does­n't have to be the only one, it just needs to be the best."
Great. No pres­sure there!
I sat down for a long think. How could I write a biog­ra­phy that could poten­tial­ly com­pete with at least two oth­ers on the same sub­ject? What unique treat­ment could I offer that would make my book stand out? The answer was as sim­ple as sim­i­le: poet­ry. I would write a biog­ra­phy in verse. But what shape would such a treat­ment take? This could not mere­ly be a lose col­lec­tion of poems. As a biog­ra­phy, it required more struc­ture than that. I had no easy solu­tions, so I set aside the man­u­script for a few weeks.
In recent years, I'd attend a few (too many) memo­ri­als. Each ser­vice was, of course unique in its own way. How­ev­er, they all had some­thing in com­mon: with each, I was struck by the fact that I left the memo­r­i­al with a much more round­ed sense of the depart­ed than I had when I walked in the door. And it made per­fect sense. Every per­son who spoke shared sto­ries about the loved one from a time or per­spec­tive to which I had­n't been privy. Each knew the depart­ed in a way no else had, and to hear each sto­ry was to receive anoth­er piece of that per­son­'s puz­zle. Tak­en togeth­er, the indi­vid­ual anec­dotes spun the larg­er sto­ry of his or her life.
I'm not quite sure why the mem­o­ry of those memo­ri­als sur­faced when they did, but I real­ized the idea of a memo­r­i­al would be a per­fect jump­ing off place for my sto­ry about Bessie Cole­man. With that in mind, I rolled up my prover­bial sleeves and began the man­u­script anew.
I iden­ti­fied the key fig­ures in Bessie's life through whom I would tell her sto­ry and dug in for a sec­ond round of research. Among oth­er things, I stud­ied flight man­u­als, inter­viewed female pilots, and sat in the cock­pit of a repli­ca of the plane Bessie flew to get the feel of it.
I'm not wild about research, per se, but Bessie's sto­ry was so exhil­a­rat­ing, that I felt dri­ven. I mean, here's a woman who began life work­ing in the cot­ton fields, and end­ed it as the first licensed African Amer­i­can pilot in the world. Then you throw in the birth of avi­a­tion, air cir­cus­es, and wing-walking—come on! How could I not be intrigued?
So, I pound­ed out man­u­script num­ber two, and turned it in. There were the usu­al round of edits and revi­sions, of course. Beyond these, there was a tug of war between my edi­tor and myself. Her vision of the book was one of scant text, maybe four or five lines of text per spread, with lots of space for glo­ri­ous illus­tra­tions. I, on the oth­er hand, was dri­ven by the needs of the sto­ry. I argued that the length of the text had to be deter­mined by the num­ber of words it took to tell that sto­ry. We went back and forth on this for awhile. Even­tu­al­ly, I went back through the man­u­script and made a few judi­cious cuts, elim­i­nat­ing only those words that were not specif­i­cal­ly ger­mane to the sto­ry. Nei­ther of us got entire­ly what we want­ed, but we settled.
Then it was on to the selec­tion of the illus­tra­tor. We found one fair­ly quick­ly (for us!) and we were set to go. Final­ly, I thought. This book is mov­ing forward!
Not so much.
Melanie Kroupa and two oth­er edi­tors at Orchard announced they were leav­ing the com­pa­ny to set up shop else­where. The plan, as I under­stand it, was to take their projects with them. How­ev­er, Orchard put the breaks on and took the trio to court. What did that mean for me? My sto­ry on Bessie was held cap­tive for the next year while the legal wran­gling ensued.
When the dust final­ly set­tled, my man­u­script was still at Orchard and I had to wait until a new edi­tor was assigned to the project. In oth­er words, Bessie was still in lim­bo. The project remained that way for a while.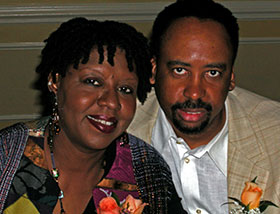 Three edi­tors came and went rather quick­ly, though one stayed long enough to can­cel the con­tract of the illus­tra­tor we'd orig­i­nal­ly signed. Two edi­tors lat­er, some­one came on board and dis­cussed pos­si­ble illus­tra­tors with me. The name E.B. Lewis was raised and I jumped on it. "Yes! Yes!" I said. "Get him." I knew he would be per­fect for this project. His his­tor­i­cal detail was impec­ca­ble and that would serve Bessie well. The down­side was that he would not be avail­able to begin for two years. More than three years had already passed since I began work on this sto­ry, and the idea of wait­ing two more years was gru­el­ing. Even so, I knew E.B. would get the sto­ry right, so I felt he was worth the wait. And he was.
Now, you'd think, at this point in the sto­ry, the future would be smooth sail­ing. But you would be wrong …
Stay tuned for Part II of Bessie's sto­ry next week …