Talkin' About Bessie, my biog­ra­phy of avi­a­tor, Eliz­a­beth Cole­man, was an exer­cise in extreme patience and per­se­ver­ance. If you've read Part I of this blog post, you already know how tax­ing this project was from the start! The entire saga was a bit too long for one blog post, though, so I decid­ed to break it up. Here, then, is Part II.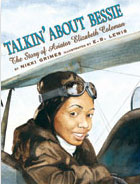 Sign­ing on E.B. Lewis as the illus­tra­tor for Talkin' About Bessie should have been the end of the long saga of bring­ing this book to mar­ket. It wasn't.
As men­tioned in Part I, after Bessie's orig­i­nal edi­tor moved on to anoth­er pub­lish­ing house, a round-robin of edi­tors tem­porar­i­ly filled the spot over the course of a few years. With all that com­ing and going, some impor­tant details of book pro­duc­tion fell through the cracks. For exam­ple, no one was shar­ing ear­ly sketch­es with me. That was proven to be a huge mis­take. When I saw the F&Gs, I real­ized that one char­ac­ter, who was sup­posed to be African-Amer­i­can, had instead been por­trayed as a white per­son. More egre­gious than that, how­ev­er, was the fact that a female char­ac­ter had been por­trayed as a man. This was a biog­ra­phy, after all, and that char­ac­ter rep­re­sent­ed an actu­al, not a fic­tion­al, per­son. A change in gen­der goes far beyond the bounds of poet­ic license! To say I was aghast when I real­ized this error is to under­state the fact.
Both paint­ings had to be redone. The good news, I sup­pose, is that I caught the errors in time!
Whew! That was close. Yes. But that's not the end of the story.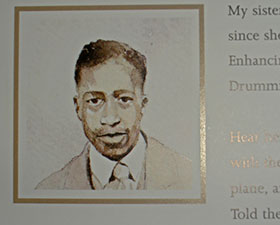 As I flipped through the F&Gs a few more times, look­ing for addi­tion­al mis­takes or omis­sions, I real­ized the bib­li­og­ra­phy was nowhere to be found. But sure­ly I was wrong, I thought. Per­haps it had sim­ply fall­en out of this par­tic­u­lar copy of the F&G. So, I checked a sec­ond copy. Nope. No bib­li­og­ra­phy there, either. Fran­tic, I called the editor.
"Where is the bib­li­og­ra­phy?" I asked.
"Bib­li­og­ra­phy?" she repeat­ed, as if I were speak­ing anoth­er lan­guage. "Was there a bibliography?"
I ground my teeth and did a slow burn.
"Yes. I. Gave. You. A. Bibliography."
"Oh!" she said. "Wait a minute. I think I do remem­ber see­ing one. Let me go back and find it."
"You do that," I said.
I won't tell you what I was think­ing in that moment. I try not to use that kind of language.
Even­tu­al­ly, the bib­li­og­ra­phy was found. How­ev­er, since space allo­ca­tion had already been set, the chal­lenge of the art direc­tor was to find some space in which to include it. In the end, the bib­li­og­ra­phy was reduced to the small­est pos­si­ble font, and the whole was shoe-horned into the book.
While all this was going on, I begged the pub­lish­er not to release the F&Gs to review­ers until the bib­li­og­ra­phy could be added. I was told not to wor­ry. You know where this is going.
The first reviews were released, and crit­ics not­ed that no bib­li­og­ra­phy was avail­able. The pub­lish­er tried to keep my head from explod­ing by assur­ing me that an erra­ta sheet would go out to review­ers to let them know a bib­li­og­ra­phy was, in fact, in exis­tence. I could not be mollified.
By the time the fin­ished book hit store shelves, I remem­ber think­ing, "This damn book bet­ter win some­thing, after all this!"
Total time invest­ed? Six years. Pay­off? Coret­ta Scott King Hon­or for text, Coret­ta Scott King Award for illus­tra­tion, and many, many fans. I hope you'll become one, if you haven't already.
I'll close with a favorite poem from the book, "School Teacher."
When it came to knowl­edge, Bessie was a miser,
hoard­ing facts and fig­ures like gold coins she was
sav­ing up to spend on some­thing spe­cial.
I'd watch her sometimes,
por­ing over her lessons,
lips pursed in concentration.
Often, when the sub­ject turned to math,
she'd glance up at me and, I'd swear,
she'd get a sort of greedy look in her eyes.
But maybe it was just my imag­i­na­tion.
I did not imag­ine her per­sis­tence, though.
Come rain or shine, if work allowed,
Bessie would attend the hot-in-summer,
cold-in-win­ter, one-room Col­ored schoolhouse
where I taught in Waxahachie.
Not even the four-mile walk it took to get there
dis­cour­aged her from mak­ing her way to class.
Still, bright as she was, I wor­ried that her fine mind
would soon be sac­ri­ficed to a life spent pick­ing cotton
or work­ing in the mills, like so many oth­ers had before.
But, after each har­vest, she'd return to class,
deter­mined as ever to snatch up and pocket
every tid­bit of knowl­edge I could offer.
"Teacher," she'd say, "one day, I'm going
to amount to some­thing."
Bless God! I need not have
fret­ted in the least.