I'm on my way to ALA, the sweet land of chil­dren's book award cer­e­monies. I'll only be there to pro­mote my new mem­oir, Ordi­nary Haz­ards, not to pick up any plaques, or medals this year. Still, it got me thinking.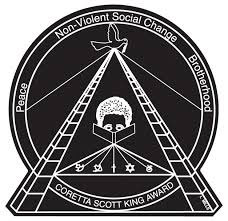 Who does­n't want a book award or cita­tion, or even a starred review? We wel­come them, pine for them, lust for them, hope for them. We do so, in part, because we assume they will guar­an­tee suc­cess and longevi­ty of our books, and keep them in print. Sad­ly, that is not always the case. I would know, hav­ing a num­ber of such award-win­ning titles on the prover­bial scrap heap of out-of-print books. A notable book cita­tion did­n't keep What is Good­bye? from hit­ting the pile, nor did the Coret­ta Scott King Illus­tra­tor Award keep Some­thing On My Mind from dis­ap­pear­ing from book­store shelves. (These aren't my only OP titles, but ouch!) Then, there are those beau­ti­ful books that nev­er stay in print long enough to find their mar­ket (Under the Christ­mas Tree, any­one? I dare you to say the paint­ings by Kadir Nel­son are any­thing less than scrump­tious! My poems weren't too shab­by either, if I must say so. I'm get­ting off point, though. Sorry.)
If awards and major cita­tions don't keep a book in print, what's the point? What's the deal? The truth is, book pub­lish­ing has always been a crap-shoot. There's real­ly no nail­ing down which book will make it, and which one won't, which book will be cho­sen for spe­cial hon­ors, and which won't. Don't waste your time tak­ing bets. Besides, awards, while love­ly (I won't be giv­ing any of mine back, thank you very much!), those shiny stick­ers don't come with any guar­an­tees. (Okay. So maybe there's one or two excep­tions. Still.)
Don't get me wrong: awards are cer­tain­ly worth cel­e­brat­ing, and I'm ready to do the hap­py-dance when­ev­er one comes my way. Even so, an award can't be the rea­son I write a book. If it were, I'd con­stant­ly writhe in mis­ery (well, more than I usu­al­ly do) when­ev­er one of my books failed to take home the gold, or even the sil­ver. No. I write books because I have to, because I have sto­ries to tell, because I want to enter­tain, encour­age, inform, inspire and chal­lenge young read­ers. I write because I want to touch hearts and, ultimately—I'll admit it—hopefully change minds, and maybe even lives. Whether I fail or suc­ceed in the try­ing, an award is beside the point. Every time I receive a glow­ing let­ter from one of my read­ers, or a teacher, a par­ent, grand­par­ent, or a librar­i­an, I remem­ber that. You should, too.
Chin up, my fel­low scribes! Hope to cross paths with you on the road as we share our sto­ries, and our hearts, with the young read­ers who move us to put pen to paper, in the first place.