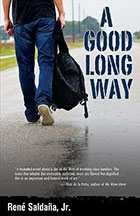 I recent­ly read a blog post by author René Sal­daña, Jr., that got me wondering—and not for the first time—how much effort teach­ers and librar­i­ans, espe­cial­ly, go to when search­ing for books by authors of col­or. It is a ques­tion worth asking.
The oth­er day, out of curios­i­ty, I Googled myself. I found a whop­ping 1, 470,000 results list­ed under my name. These include bios, videos, inter­views, peri­od­i­cal fea­tures, pho­tos, and, of course, books and audio-books. Wow. And yet, I reg­u­lar­ly meet teach­ers and librar­i­ans who are whol­ly unfa­mil­iar with my work. How is that possible?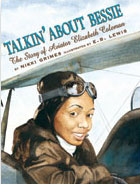 Now, I'm not say­ing my work is the great­est thing since sliced bread, because there are writ­ers out there whose word­smithing I envy. What I'm say­ing is that my titles are not exact­ly in hid­ing. In fact, through­out the course of my career, I have worked dili­gent­ly to make sure they're not. From seek­ing out book­store sign­ings, in my ear­ly days; to doing school vis­its; to pro­duc­ing post­cards and book­marks; to cre­at­ing a com­pre­hen­sive web­site; to invest­ing in teacher guides for my books; to devel­op­ing an online pres­ence via Face­book, and now Twit­ter—in these ways, and more, I have made a con­cert­ed effort to put my work out there. How is it, then, that many peo­ple still man­age to miss it?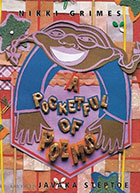 Before I go any fur­ther, let me say that I am extreme­ly grate­ful for those teach­ers and librar­i­ans who have sought out and found my work, over the years, and then went on to share it with the stu­dents they serve. Obvi­ous­ly, I would­n't have much of a career with­out these lit­er­a­ture-lov­ing pro­fes­sion­als. They have kept a good­ly per­cent­age of my 46 trade, and 20-odd mass-mar­ket books in print. I'm hop­ing they receive to my next two titles with equal kind­ness. How­ev­er, after 30+ years in the busi­ness, I still rou­tine­ly hear peo­ple say, "I've looked for your work every­where and can't find it," to which I respond, "Huh?"
I have a web­site fea­tur­ing all of my titles, awards, audio-clips, and select reviews, with post­ed links to IndieBound.org and Amazon.com. In addi­tion, I have a Wikipedia page, as well as an Amazon.com page. How hard have you been look­ing, exact­ly? I'm confused.
Sylvia Vardel­l's must-view Poet­ry for Chil­dren web­site lists many of my poet­ry titles. TeachingBooks.net fea­tures my Coret­ta Scott King Award and Hon­or win­ners (six in total). I, thank­ful­ly, have books on any num­ber of Best Book lists. Tell me again how hard it is to find my work.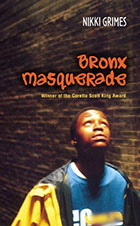 Clear­ly, there's more to the lack of diver­si­ty in chil­dren's books than whether or not POC are cre­at­ing and pub­lish­ing them. Could it be that some lack the moti­va­tion to seek out the books that are already there? That's what René Sal­daña, Jr., is ask­ing. Now, I am, too.
Mind you, I'm not say­ing that we don't need more books by peo­ple of col­or, because we most cer­tain­ly do. The num­bers show that we are woe­ful­ly off the mark in pro­duc­ing diverse books in num­bers com­men­su­rate with the pro­por­tion of our ever-increas­ing­ly diverse pop­u­la­tion. But that said, I am sug­gest­ing that we, per­haps, look at the issue a lit­tle more close­ly, that we ask a few more uncom­fort­able, but nec­es­sary, questions.
René Sal­daña, Jr., spoke to this issue from the point of view of an author with a lit­tle less vis­i­bil­i­ty than mine. And yet I have to agree with so much of what he has to say.
The jug­ger­naut that is #WeNeed­Di­verse­Books is hard at work to raise the vis­i­bil­i­ty of books by, and for, peo­ple of col­or. This is great and impor­tant work. Still, I can't help but won­der if there's more going on beneath the sur­face that would explain why the gate­keep­ers in this busi­ness con­tin­ue to miss the POC books—including Coret­ta Scott King, Pura Bel­pré, New­bery, Calde­cott, Printz, and Nation­al Book Award Winners—that are already out in the marketplace.
Where, exact­ly, is the dis­con­nect? Is it the want-to that's miss­ing? If so, how do we begin to address it?
Let's talk.