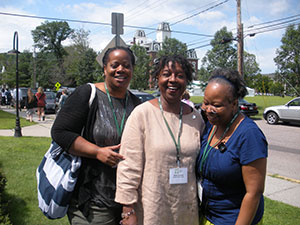 So the argu­ment goes some­thing like this: Police­men come into con­tact with any num­ber of vio­lent, crim­i­nal black men dur­ing the course of their careers, and so it is only rea­son­able that they should view all black men as poten­tial threats, and should have their loaded guns at the ready, when­ev­er, wher­ev­er, and

under what­ev­er cir­cum­stances they hap­pen to encounter a black male, no mat­ter his age, size, appear­ance, or demeanor.
To the above, I respond thus: As Negro, Col­ored, Black, African-Amer­i­can peo­ples, we indi­vid­u­al­ly, and col­lec­tive­ly, car­ry in our hearts, minds, and souls, the mem­o­ries of count­less lash­ings, lynch­ings, cross-burn­ings, cat­tle prod­ding, water-hos­ing, hang­ings, bomb­ings, whip­pings, rapes, muti­la­tions, tar­ring, feath­er­ing, and police-baton beat­ings at the hands of peo­ple with white skin. In addi­tion, we have in the past, and con­tin­ue to suf­fer in the present, acts of dis­crim­i­na­tion at the hands of peo­ple clothed in white skin, some of whom hurt, harm, mis­treat and mis­judge us every day. (For those of you who think oth­er­wise, racial dis­crim­i­na­tion is, sad­ly, very much alive in Amer­i­ca. We wish it weren't.)
Hav­ing said that, it's impor­tant for you to know that I do not spend my days enraged or even angry. Life is too short to walk through the world with a per­ma­nent chip on one's shoul­der, no mat­ter the ratio­nale. The truth is, I've got bet­ter things to do. So have most of my friends. Besides, we pre­fer to inter­act with, and judge, each per­son we encounter based on the
con­tent of their char­ac­ter, not the col­or of their skin. Most African Amer­i­cans will tell you the same.
Now, re-read the ear­li­er para­graph, and note that none of the afore­men­tioned atroc­i­ties lead black peo­ple to leave our homes, armed to the teeth, and ready, with­out a momen­t's hes­i­ta­tion, to mow down every white per­son we encounter, in whom we see the shad­ow of oth­er whites who may have hurt or harmed us or threat­ened our very lives.
What, ulti­mate­ly, is the key dif­fer­ence between a black per­son who refus­es to see every white per­son he encoun­ters as a threat, and a white per­son, police­man or oth­er­wise, who refus­es to see a black per­son, par­tic­u­lar­ly a male, as any­thing but? Choice. It real­ly boils down to choice.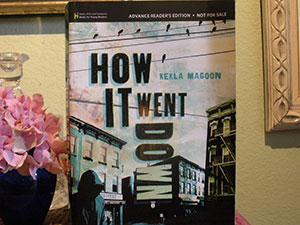 Shoot­ing to kill is not an acci­dent. It's a choice. It's a choice in Fer­gu­son, in Flori­da, in Chica­go, in New York, in Any­where, USA.
The argu­ments put for­ward by police and pri­vate cit­i­zens, for shoot­ing to kill any and every black man or boy they see in the street, day or night, does not pass muster. A refusal to hol­ster hate, or unpro­voked fear, is a choice. Not both­er­ing to tell the dif­fer­ence between a bur­gundy car and a tan car is a choice. Not tak­ing care to dis­tin­guish between a car full of school chil­dren, and one full of poten­tial adult male sus­pects, is a choice. Fail­ing to dif­fer­en­ti­ate between a boy, or a man, on the attack, and a boy or a man with his hands in the air, is a choice. And, by the way, punch­ing, or pum­mel­ing an unarmed, mid­dle-aged woman on the side of a free­way is a choice.
A choice is a deci­sion, not a cause for mak­ing excus­es. Any mature, men­tal­ly healthy adult can tell the dif­fer­ence between the two.