I love it when chil­dren's books do well in the world. I was excit­ed to join Kather­ine Pater­son at the film pre­mier of Bridge to Ter­abithia, a cou­ple of years ago, and can't wait for The Great Gilly Hop­kins to hit the big screen. I'm all a‑tingle just think­ing about the wide release of Lois Lowry's, The Giv­er. I thor­ough­ly enjoyed The Fault In Our Stars, and the grow­ing num­ber of oth­er Hol­ly­wood treat­ments based on chil­dren's and young adult books. But—there is a but.
Where, oh where are the films based on chil­dren's and YA titles writ­ten by authors of col­or? Why is no one option­ing some of the wor­thy titles by these authors?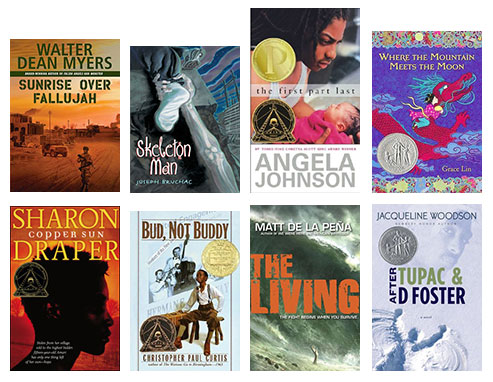 My ques­tion is as much to black film­mak­ers and black movers and shak­ers (and Lati­no, and Asian, and—well you get my drift) as it is to any­one else. There may not be as many mon­eyed POC in Hol­ly­wood as there are whites, but there are cer­tain­ly a num­ber of heavy hit­ters I could name. Why aren't they step­ping up to the prover­bial plate? I know they have pro­duc­tion com­pa­nies of their own, so why aren't they mak­ing moves to acquire the rights to works by Wal­ter Dean Myers, or Joseph Bruchac, or Angela John­son, or Grace Lin, or Sharon Drap­er, or Christo­pher Paul Cur­tis, or Matt de la Pena, or Jacque­line Wood­son, or—well, we've got a decent list of our own. (We may be small, but we are mighty!) And mind you, I'm talk­ing about award-win­ners, and best­sellers, so the book-to-film audi­ence is there, in case any­one asks. I just wish our afflu­ent coun­ter­parts in the film indus­try would rise up to the dol­lars and sense to be made by devel­op­ing our books for the big, or small, screen.
Oprah Win­frey, Will & Jada Smith, Spike Lee, are you lis­ten­ing? BET, what about it? Tyler Per­ry, what do you think?
What's it going to take, huh? Look, I'm not say­ing it's going to be easy. (Is any­thing impor­tant ever?) I'm just say­ing it's going to be worth it.