In prepa­ra­tion for a lec­ture I was giv­ing on the use of poet­ic ele­ments to enhance prose, I dug through a few old news­pa­per and mag­a­zine arti­cles I'd writ­ten for sam­ple pas­sages in which I had done pre­cise­ly that. In the midst of my search, I came across a piece of reportage from 1977 that had par­tic­u­lar res­o­nance. The title of the piece was "Broad­way Orches­tras: A Pit of Dis­crim­i­na­to­ry Hir­ing," and it was all about a lack of diver­si­ty in Broad­way the­ater orches­tras, dis­cussed at a pub­lic hear­ing I was sent to cover.
"Dur­ing this year, the Hous­ton Opera Com­pa­ny pro­duced two major Black shows. The first, Scott Joplin's Treemon­isha, fea­tured 35 musi­cians in its orches­tra. The sec­ond, Por­gy and Bess, fea­tures a 43 man orches­tra. Of these 78 musi­cians only sev­en were black.
"Eleanor Holmes Nor­ton, of the Com­mis­sion on Human Rights, brought these facts to atten­tion recent­ly in a pub­lic hear­ing enti­tled "Hir­ing Prac­tices for Broad­way Musi­cal Orches­tras: The exclu­sion­ary Effect on Minor­i­ty Musi­cians."
"The hear­ings, designed to 'deter­mine which recruit­ment and hir­ing prac­tices result in this (exclu­sion­ary) pat­tern…' brought out some of Broad­ways key pro­duc­ers, con­trac­tors, and Black musi­cians. Among them were pro­duc­ers Nor­man Kean and Philip Rose, con­trac­tors Earl Shen­dell and Mel Rod­non, musi­cians Gayle Dixon and Jack Jef­fers, and actor, pro­duc­er, direc­tor Ossie Davis.
"What brought on all the hooplah?"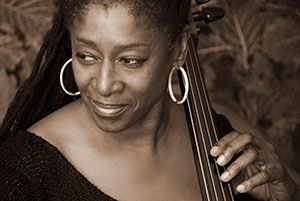 Read­ing this piece gave me chills, for a range of rea­sons. For one, Ruby Dee, wid­ow of the late Ossie Davis, had just passed. For anoth­er, the vio­la play­er Gayle Dixon, sis­ter of friend and cel­list Akua Dixon, was a per­son­al acquain­tance. Akua had just recent­ly men­tioned Gayle, who passed years ago. These twin facts were rea­son enough for my goose-bumps, but there was a third. The piece was about diver­si­ty or, more pre­cise­ly, the lack there­of. In this case, it per­tained to Broad­way orches­tras. These days, a lack of diver­si­ty most often per­tains to chil­dren's lit­er­a­ture, a sub­ject I have addressed on more than one occa­sion. Appar­ent­ly I've been bump­ing up against, and speak­ing out about, this issue for quite some time.
I won­der about the state of Broad­way orches­tra pits today. It's been a long time since I last fol­lowed up on the sub­ject. I'll have to get the skin­ny from Akua. As for diver­si­ty in chil­dren's lit­er­a­ture, well, in case you haven't been keep­ing up, the stats remain pret­ty dis­mal. But this isn't a piece about sta­tis­tics. This isn't even a piece about the dol­lars and sense of pub­lish­ing and mar­ket­ing a more diverse selec­tion of books for an ever-expand­ing, diverse pop­u­la­tion of read­ers. Instead, I want to talk about the good of it all. What comes from shar­ing books fea­tur­ing chil­dren of one race or cul­ture, with read­ers of anoth­er? That's what I want to speak to.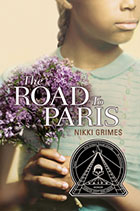 I know a thing or two about shar­ing chil­dren's books across the col­or line, and not because I've tak­en polls, but because I've writ­ten and pub­lished more than 60 books since I entered this field, in 1977. Over that time, I've gath­ered hun­dreds of let­ters and emails from read­ers. I haven't crunched the num­bers, but I'll wager that a sig­nif­i­cant per­cent­age of them are some­thing oth­er than African Amer­i­can. Some are Asian, some are Lati­no, and many are white. How do I know that? It's usu­al­ly easy enough to judge from the name but often I don't have to because the read­ers, unbid­den, choose to men­tion their eth­nic­i­ty. Yes, they write to tell me how they feel about my books, but also to intro­duce them­selves. In the process, they share basic infor­ma­tion about who they are: their names, ages, schools, grades, where they come from, and their eth­nic back­grounds. Mind you, if we adults did­n't make such a big deal of the lat­ter, these young peo­ple would­n't either!
The notes and let­ters I receive from chil­dren and young adults across the coun­try, and around the world, are very telling. Here's what I've learned from readers:
They like humor.
They enjoy being moved and inspired.
Some have come to my books dis­lik­ing poet­ry, but have come to love it. Many have since tried their hand at poet­ry, themselves.
Some come to my books as reluc­tant read­ers, but leave as avid readers.
They relate to my con­tem­po­rary storylines.
They see them­selves in my characters.
As for the col­or of my char­ac­ters? Basi­cal­ly, my read­ers could care less. When they com­ment on race at all, it is only to explain exact­ly why race does­n't matter: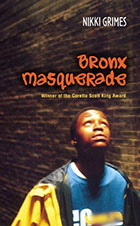 Mari­ah T. says: "I'm white but to me race does­n't mat­ter, not one bit, and I'm read­ing your book Bronx Mas­quer­ade, and so far, I love it."
Zach A. writes: "I think that if most of the char­ac­ters in a book are not the same race as you, that should not stop you from read­ing it. That's racist and just plain silly."
Ary B. com­ments: "I stick my nose in your book, and have a hard time tak­ing my nose out of it. I can put myself in your char­ac­ters' shoes and pre­tend to be them, even though I am white. I think African Amer­i­can authors should actu­al­ly be rec­og­nized more, because it is nice to think that instead of assum­ing every­one is white, which white peo­ple tend to think, we are look­ing at the world in a whole new perspective."
Can I get an Amen?
Unlike adults, chil­dren and young adults get it: the thing that mat­ters most about a book is Sto­ry. And when read­ers are giv­en the oppor­tu­ni­ty to dive into sto­ries across lines of col­or and cul­ture, they walk away with valu­able lessons, such as:
­We are more alike than we are different.
We all bleed.
We all expe­ri­ence joy and laugh­ter, suf­fer­ing and pain.
We all need love and blos­som when we have it.
We are all capa­ble of both good and evil.
What sep­a­rates us is not our col­or, but our character.
We live in a coun­try that, in word at least, cel­e­brates its cul­tur­al mul­ti­plic­i­ty. Isn't it past time that the books we share with our chil­dren reflect that, as well? There is only one right answer to that ques­tion, by the way.
If we live in a cul­tur­al­ly diverse world—and we do—it behooves us to learn some­thing about the cul­tur­al groups we live among. One of the least intim­i­dat­ing ways to learn those lessons is between the pages of a book. Yes, I've said it before, but it bears repeating.
As we in the diverse chil­dren's book com­mu­ni­ty like to say, let's move the nee­dle. This issue has been stuck on pause long enough, and it's our children—Native Amer­i­can, Asian, Lati­no, African-Amer­i­can, and white—who are pay­ing the cost.