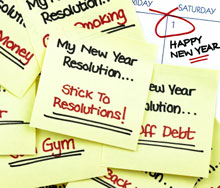 Decem­ber always feels like the bot­tom half of roller­coast­er ride. I start off the year at a full rest, get in gear in the spring, take a breather in the sum­mer, pick up steam in the fall, and by Decem­ber, I'm fly­ing down the tracks so fast, I can scarce­ly breathe. I think they call this con­di­tion "busy."
We're all busy. Just ask your neigh­bor. Some of the busy­ness is legit­i­mate. One has work, busi­ness trips, meet­ings, and con­fer­ences. We pride our­selves on our to-do lists, rank­ing our­selves with the world's most suc­cess­ful peo­ple. Aren't they all list-mak­ers? We squeeze in laun­dry, car repairs, shop­ping, cook­ing, clean­ing, gar­den­ing, and if we're savvy, vol­un­teer work. We pay bills, wash our car if we have one, do home main­te­nance, exer­cise (I wish!)—the list seems end­less. In short, we've got lots on our plate. Why do we always com­pete? (Mir­ror, Mir­ror on the wall, who's the busiest one of all?) Let's call it a draw, shall we?
I men­tioned that to a friend, recent­ly, after she'd bro­ken a lunch date with me for the third time in a row. She apol­o­gized, reit­er­at­ing yet again that she'd been busy. To her cred­it, though, she admit­ted her "crazy sched­ule" was no excuse. And she was right.
Here's the thing: Only God and Man are eter­nal. That means, at the end of the day, every­thing else needs to take sec­ond pace. If we are not rou­tine­ly carv­ing out time in our lives to nur­ture our rela­tion­ships with God and the peo­ple we pur­port to love, then we are too busy. Period.
As we begin a new year, let's all take stock of how we use our time. Remem­ber, we all have the same 24 hours. Let's resolve to spend some of those hours nur­tur­ing our rela­tion­ships. They are the source of our joy, our mean­ing, our sense of place in the uni­verse. Our rela­tion­ships mat­ter, and they are wor­thy of our invest­ment. Yes, we are all sad­dled with a myr­i­ad of oblig­a­tions. But what say we con­trol our sched­ules, rather than allow­ing our sched­ules to con­trol us?
At the end of your life, you're not going to want five more hours at work. You're going to wish you had even five more min­utes with those you love. Spend that extra time with them now.
Sched­ule a week­ly date-night with your part­ner. Arrange time with at least one friend each week. Have lunch. Go to a movie or a con­cert. Make cards, or play them. (I occa­sion­al­ly plan a craft-day with a good friend, and we vis­it while we work. It's always a blast!) Have cof­fee or tea. Go on a hike. What­ev­er. Some­times I'll go shop­ping with a friend who is a busy mom, and we'll stop on the way for a quick sal­ad at a favorite healthy fast-food restau­rant. It's a chal­lenge for us to work in time to vis­it, but we do it. Just be inten­tion­al about spend­ing time togeth­er. Do this and, if you have four close friends you'll be spend­ing time with each at least once a month. Those hours will fly by, but they will leave some­thing rich in their wake.
Use the tele­phone and/or SKYPE. Sched­ule time with friends or fam­i­ly who live far away. Dis­tance is no excuse not to stay in touch.
Sched­ule an occa­sion­al play-date dur­ing which you plan to spend at least half a day with some­one. Do some­thing spe­cial with that time. You won't have pre­cious mem­o­ries if you don't build them. That goes dou­ble if you're a par­ent. Spend quan­ti­ty time, not just "qual­i­ty time" with your chil­dren. They don't want things half as much as they want you, anyway.
Will all this take effort? Absolute­ly. Are your friends and loved ones worth it? You tell me.
Hap­py New Year to you and may all your res­o­lu­tions bear fruit in 2011!