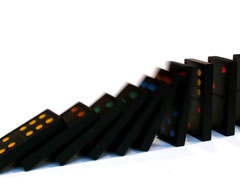 Why is it that most pub­lish­ers push their authors to keep writ­ing the same book, over and over again, but with a dif­fer­ent title? (I'm not wrong here, am I?) The argu­ment goes that it is eas­i­er to mar­ket a new book by an author when it is like that author's pre­vi­ous book. I think that's why the eyes of a pub­li­cist light up at the launch of a book series. The phrase "easy mon­ey" comes to mind. I get it. But would it be such a ter­ri­ble thing for mar­ket­ing depart­ments to tax their cre­ativ­i­ty by devel­op­ing indi­vid­ual mar­ket­ing strate­gies for dif­fer­ent types of books? But maybe that's ask­ing too much.
To be fair, the lim­it­ed pro­mo­tion­al bud­gets of most mar­ket­ing depart­ments force them into a jug­gling act as they attempt to pro­mote all the books on their list. Exact­ly how they divide up the pie is some­thing I take issue with, but I do under­stand that their dif­fi­cul­ties, espe­cial­ly in the cur­rent econ­o­my, are legit­i­mate. That said, my con­cern is for the good of the author, not the mar­ket­ing division.
We authors have needs. We need to stretch our­selves, to chal­lenge our cre­ativ­i­ty, to sharp­en our skill-set, to mas­ter our cho­sen genre(s). If we aren't attempt­ing some­thing new each time out, how can we ever hope to grow?
There's cer­tain­ly noth­ing inher­ent­ly lim­it­ing about the rhythm of a series, so long as an author digs deep each time and finds some­thing fresh and excit­ing to explore. And, to be sure, read­ers love series. It's under­stand­able that, once they've bond­ed with a par­tic­u­lar char­ac­ter, they're anx­ious to con­nect with him or her again. (Nan­cy Drew, any­one?) How­ev­er, for many authors, mov­ing beyond the known is what allows us to raise the bar with­in our own body of work. Why not encour­age that?
I hon­est­ly don't imag­ine pub­lish­ers will jump on this par­tic­u­lar band­wag­on any­time soon, so I think we authors are on our own. Three cheers for us rebels, I say! May we con­tin­ue to side­step the lat­est trend and take the path less trav­eled, cre­at­ing sur­pris­ing new works for our read­ers, and our­selves, along the way.