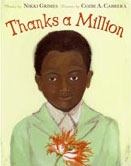 For the longest time, I had the dis­tinct impres­sion that there were pre­cious few women illus­tra­tors in the chil­dren's book mar­ket. Can you blame me? Accord­ing to one not­ed illus­tra­tor, a scant 20% of the illus­tra­tion work goes to women. If that's true, no mat­ter how you look at it, that's a pret­ty low per­cent­age. When you set that per­cent­age next to the rather large, com­pre­hen­sive list of female artists avail­able today, the per­cent­age seems even more egre­gious. What's going on here? Time to ask some hard questions.
Ques­tions are what led me to write this par­tic­u­lar blog. Recent­ly, I approached the edi­tor of a cur­rent work-in-progress about seek­ing out a female illus­tra­tor for one of my new books. The book is writ­ten by moi, a woman, and is about women, and so I thought it only right that the book be illus­trat­ed by a woman as well. He did not dis­agree. So, to help mat­ters along, I decid­ed to put togeth­er a com­pre­hen­sive list of female illus­tra­tors from which to choose. To build that list, I went on Face­book, sug­gest­ed I was build­ing such a list, and asked my FB friends who should be on it. The response? A ver­i­ta­ble del­uge of names! I was pleased, but more than a lit­tle sur­prised. Why did I not have a sense of their pres­ence in the mar­ket­place, I asked myself. I've been in this busi­ness for more than 30 years, and yet I had no idea of such a dom­i­nant female pres­ence. What were the reasons?
Are the skill sets of male and female artists sig­nif­i­cant­ly dif­fer­ent from one anoth­er? A female art teacher I spoke with sug­gest­ed that, on aver­age, men have a bet­ter spa­tial sense and a bet­ter intu­itive idea of per­spec­tive than female artists, while women, on the whole, are bet­ter at draw­ing fig­ures. I find that argu­ment intrigu­ing. I can per­son­al­ly think of an artist cou­ple I know for whom that is exact­ly true. But I don't know how com­mon that is. I do a lit­tle paint­ing, myself, but I've nev­er attempt­ed illus­tra­tion, so this is not my area of exper­tise. Still, it would seem to me, for the many dif­fer­ent kinds of books that are pro­duced, more than 20% of them would ben­e­fit as much from the skills of a woman as that of a man, whether or not those skill sets differ.
There may be anoth­er rea­son why the lion's share of illus­tra­tion work seems to go to men rather than women.
Even a cur­so­ry look at the pub­lish­ing indus­try will reveal that women dom­i­nate the field. How many male edi­tors or art direc­tors do you know? Go on. Count them. If you need more than one hand, I'd be sur­prised. When it comes to illus­tra­tors, which gen­der do you think a female edi­tor or art direc­tor will be inclined to hire? Go on. Be hon­est. And if that male is cute? For­get about it! I'm not blind. I see all the flirt­ing that goes on between male artists and the women who hire them. Still, I'd nev­er thought about how that casu­al inter­play might impact the selec­tion of illus­tra­tors for book projects. (And don't even get me start­ed on the num­ber of women NOT win­ning the Caldecott!
Do all male artists flirt? No, not all. Does sex­u­al heat always play into the hir­ing choice of an illus­tra­tor? Absolute­ly not. To sug­gest so would be an insult to many out­stand­ing men work­ing in this field who eschew the very idea of using their man­ly charms to secure a con­tract. How­ev­er, to deny that gen­der pref­er­ence is, indeed, a fac­tor on many occa­sions would be, at best, dis­hon­est. That's not hap­pen­ing here.
So, what is the solu­tion? How can we even the play­ing field for women artists? That's a tough one. I have a sug­ges­tion, though, a place where we can begin.
We can and should encour­age edi­tors and art direc­tors to do a bet­ter job of shar­ing projects with female illus­tra­tors. We should raise our voic­es when­ev­er we encounter this type of gen­der inequity. And, as authors, we can make a con­cert­ed effort to sug­gest and rec­om­mend more female illus­tra­tors for our own books. That's my plan, and I hope oth­er authors will do likewise.
Heck, my own future might include cov­er art and pic­ture book illus­tra­tion. If it does, when I ven­ture out into the mar­ket­place, I'd like to find a lev­el play­ing field. Would­n't you?