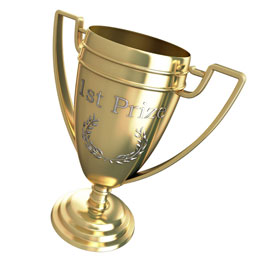 Chil­dren's poet­ry is the bas­tard child of Amer­i­can Literature.
Bet that got your attention.
"That's strong lan­guage," you say. Actu­al­ly, the term is quite appro­pri­ate. Let me explain.
You can win a Pulitzer Prize or a Nation­al Book Award for poet­ry, pro­vid­ed you write poet­ry for adults. As a poet for adults, the Guggen­heim is avail­able to you, and the Push­cart Prize, and the NEA grant, among oth­ers. Nation­al Poet­ry Month has ded­i­cat­ed sev­en days of its reign for the cel­e­bra­tion of chil­dren's poet­ry but, then, they don't give out any awards. There is an NCTE Award for Chil­dren's Poet­ry, which I myself was pleased to win a few years ago, but that is for a body of work, not an indi­vid­ual book. And that's my point. There is no major, nation­al award giv­en for a sin­gle work of poet­ry for chil­dren. Why is that?
Mind you, I am aware of, and grate­ful for, the awards cre­at­ed by Lee Ben­nett Hop­kins and, more recent­ly, by SCBWI, but I am talk­ing about an award com­ing from the Amer­i­can Library Asso­ci­a­tion. Where is that award?
At the moment, when it comes to chil­dren's book awards, all gen­res are lumped togeth­er: fic­tion, humor, non­fic­tion, mys­tery, fantasy—you name it. It is impor­tant to note that indi­vid­ual prizes do exist for humor and non­fic­tion. They exist, one would assume, in recog­ni­tion of the fact that each of these gen­res incor­po­rate a spe­cif­ic set of skills not evi­dent (or usu­al) in oth­er gen­res. That can cer­tain­ly be said of poet­ry, yes? So why isn't there a major, annu­al award offered in this par­tic­u­lar genre?
On sec­ond thought, for­get the ques­tion. I'll jump right to the point, obvi­ous though it may be: the time is past due for a stand­ing, annu­al poet­ry award with­in the realm of chil­dren's and young adult lit­er­a­ture. Period.
I'm thrilled that poet­ry has its own month, and that it does include a spe­cial week rec­og­niz­ing and cel­e­brat­ing poet­ry for chil­dren and young adults. That's won­der­ful. Now, let's take anoth­er big step. Let's cre­ate an annu­al chil­dren's poet­ry award, with a spe­cial cat­e­go­ry for verse nov­els, may I add. Poet­ry for young read­ers deserves that recog­ni­tion. 'Nough said.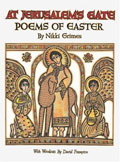 As much as I love Nation­al Poet­ry Month, there's some­thing about this time of year that excites me even more: East­er. A few years ago, I wrote a book called At Jerusalem's Gate, a poet­'s take on the East­er sto­ry, seen from the mul­ti­ple points-of-view of the char­ac­ters who were part of the orig­i­nal sto­ry 2000 years ago. And so, in this month of East­er, I close out with two poems from this collection.
"An Act of Kind­ness" focus­es on the Phar­isee, Joseph of Ari­math­ea. The sec­ond, "To Be Con­tin­ued," is from the point-of-view of a soldier.
An Act of Kindness
Christ cru­ci­fied lay limp
as any son undone
by beat­ing, cross, and spear,
a Phar­isee the one
to bear him to a place
of rough rock and rest.
Perhaps—this God knows best—
he swabbed away Christ's blood
with tears, the only bath
the Sab­bath would allow.
Per­haps he chose instead
to kiss the Mas­ter's brow
and whis­per his goodbye.
Per­haps he mere­ly wept,
while tired mus­cles strained
to roll the stone in place
and sol­diers sealed it tight
to inch by inch lock out
the air, hope, light.
To Be Continued
Don't tell me he is God.
I pierced his human side,
used my dai­ly-sharp­ened spear.
In time, I'm certain
some­one will explain
how he can be here
preach­ing still
and rising
on the wings
of the wind.