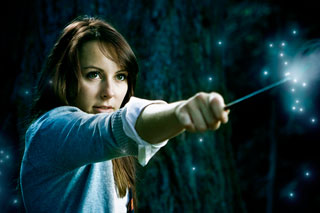 The prob­lem with YA lit­er­a­ture today is— fill in the blank. Some scream that the genre has gone too dark: drugs, alco­hol, dystopi­an tales, pro­fan­i­ty-overkill, parades of para­nor­mal fan­tasies. All true. Oth­ers com­plain about zom­bies and oth­er gore, about witch­es and war­locks and were­wolves. But I have a big­ger bone to pick: orig­i­nal­i­ty, or the lack there­of. That, my friends, is what's wrong with chil­dren's and YA lit­er­a­ture today.
Seen any new movie sequels, late­ly? What about remakes? The enter­tain­ment sec­tion of the local news­pa­per reeks of them, and there's plen­ty more where those came from. But you won't just find them in the neigh­bor­hood six-plex. A trip to your neigh­bor­hood book­store (if you still have one) will do just as well.
Here's what you'll find. In vol­ume after vol­ume, you'll meet a char­ac­ter who leaves the only home he's ever known. He attends a school with famil­iar Goth­ic archi­tec­ture. Along the way, he dis­cov­ers a super­nat­ur­al gift. And, oh yes, the child is an orphan.
Then, of course, there is the sec­ond type of vol­ume. This one fea­tures a teenaged girl who is far away from home. She meets a dash­ing, but rather stand­off­ish, young man she finds her­self attract­ed to. There's some­thing slight­ly odd about this boy, though. His hand is cold to the touch and some­times his eyes turn blood-red. If this sto­ry­line does not sound famil­iar, then you, my friend, have been liv­ing under a rock.
Chil­dren's and YA lit­er­a­ture has gone Hol­ly­wood, peo­ple. I'm not talk­ing so much about the pletho­ra of sequels as I am about the pletho­ra of clones: Har­ry Pot­ter-wannabes and Twi­light re-treads chief among them.
Why all the copy­cats? There's a shake-up in the indus­try, as we all know. The chil­dren's mar­ket has shift­ed from back­list, to mid-list, to front-list. Then, too, as libraries dwin­dle at an alarm­ing rate, so do library sales, which once account­ed for a large chunk of a pub­lish­er's bot­tom line. The increas­ing num­bers of titles avail­able on the Inter­net are also hav­ing an impact on cloth-book sales, though few of us are sure of what the end result of this trend will be. I, per­son­al­ly, wave away those who make loud pro­nounce­ments about the death of the book. No, Chick­en Lit­tle, the sky is not falling. It is, how­ev­er, extreme­ly overcast.
I'll grant you, from a mar­ket­ing point of view, there is rea­son for con­cern. I get that. Because of that con­cern, few­er pub­lish­ers are will­ing to pro­duce the so-called qui­et book. Good Night Moon and Char­lot­te's Web would have a tough time find­ing a pub­lish­er in this econ­o­my, and that's absolute­ly crim­i­nal. Lit­er­ary jew­els are not what pub­lish­ers are seek­ing, in the main. Every­one has gone block­buster-crazy. Every­body wants the big book, the run­away best­seller. And who would­n't rel­ish the out­ra­geous suc­cess of Twi­light? I can under­stand why an author might be tempt­ed to try her hand at cre­at­ing a lit­er­ary clone for a chance at reap­ing sim­i­lar mon­e­tary rewards. But here's the thing: best­sellers become best­sellers large­ly because they're orig­i­nal, whether in con­tent or struc­ture. And, by def­i­n­i­tion, an orig­i­nal is orig­i­nal because it is one of a kind.
But let's say your copy of some­body else's idea is suc­cess­ful. Let's say you do make a few extra bucks hash­ing out that clone. What hap­pens to those sto­ries that are unique­ly your own, those books that you alone were meant to write? Will they ever see the light of day? It's doubt­ful. And when those extra C‑notes are spent on the house, the car, or the clas­sic Armani, and the hol­low­ness of your "suc­cess" clangs in your ear to dis­trac­tion, what then?
No one can keep you from pour­ing your cre­ative ener­gy into cloning some­one else's orig­i­nal idea, of course. But if you do, chances are you'll have lit­tle self or soul left to pro­duce, and enjoy, the bril­liance of your own orig­i­nal cre­ations. And, by the way, your orig­i­nal idea is price­less, sim­ply because it is yours.
My men­tor, James Bald­win, encour­aged me to guard my gift and to write with integri­ty. He warned me not to ever com­pro­mise in the area of my gift­ing. Now, more than ever, I under­stand exact­ly what he was talk­ing about.
When you first dreamed of becom­ing an author, did you have dol­lar signs danc­ing in your head, or were your thoughts filled with liq­uid lan­guage, imag­i­nary vis­tas, and larg­er-than-life char­ac­ters who might leap from the page? I think I know the answer to that ques­tion. Here's what I have to say to you: write your own sto­ry, not some­body else's. In the end, you'll be proud of your­self for hav­ing done so.