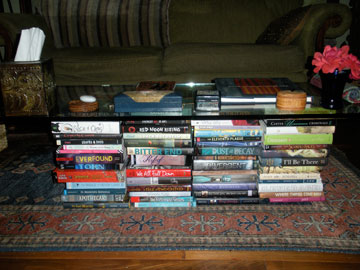 Com­ing up with the title for this blog was a breeze. As a poet, I'm par­tial to allit­er­a­tion. How­ev­er, I fell in love with a good deal more than nine books this sum­mer, so I've decid­ed to list all of my faves and let some­one else wor­ry about the final tally.
First, a cou­ple of caveats: I don't gen­er­al­ly talk about spe­cif­ic books on this blog because that's not what it's for. I'm mak­ing this lone excep­tion because, as a judge for this year's Nation­al Book Award, friends have been ask­ing me what won­der­ful titles I found along the way. So, this once, I'll give you my two-cents worth of com­men­tary on some of the lat­est, and what I, per­son­al­ly, con­sid­er the great­est YA titles enter­ing the mar­ket­place this year. Again, this is a one-time thing, so please don't send me any books to review, because I won't. That's not my gig. You'll also notice, I did not include pub­lish­er, price, or grade-lev­el. Again, not my gig.
Sec­ond, the titles on this list are not the only good books pub­lished in 2011. There are many more, I'm hap­py to report, but you won't find all of them here. These, in addi­tion to the five final­ists, are sim­ply my own, top-tier favorites.
I love me some nov­els-in-verse, don't you know. Besides Inside Out and Back Again, I found three titles to add to my col­lec­tion. Hur­ri­cane Dancers by Mar­gari­ta Engle gets my vote. An evoca­tive sto­ry of adven­ture on a pirate ship and an island along the Caribbean Sea, this is a gem of a book with a lyri­cal lure. Eddie's War by Car­ol Fish­er Saller shows us the impact of WWII on a farm boy in the Heart­land. True and ten­der. Then there's Allan Wolf, who does not dis­ap­point. This time around, his tome is The Watch that Ends the Night, a nov­el about the Titan­ic. Writ­ten in the voic­es of those inti­mate­ly con­nect­ed with the story—including the ice­berg! (I love that)—Wolf steers the sto­ry place it's nev­er gone before. Kudos, Allan!
I've nev­er been one for sci-fi nov­els, but one nov­el so cat­a­logued got my atten­tion. Awak­en by Katie Kacvin­sky was fas­ci­nat­ing, and thought pro­vok­ing. It answers the ques­tion "What if online com­mu­ni­ca­tion com­plete­ly replaced face-to-face human inter­ac­tion?" The answer will give read­ers a lot to pon­der, and they'll enjoy the jour­ney along the way.
Sara Zarr is up to noth­ing but good once again. How to Save a Life, a nov­el about a baby in need of a par­ent, and a par­ent in need of a moth­er, is a big sto­ry with an even big­ger heart. When you're done, you'll want to give this book a hug.
Speak­ing of babies, do pick up Preg­nant Pause by Han Nolan. I guar­an­tee you've nev­er met a char­ac­ter quite like Eleanor Crowe, nor thought of plac­ing a preg­nant teen in a so-called fat camp. Yes, there is some hilar­i­ty, but that's not the half of it. What can a preg­nant teen learn about her­self in this envi­ron­ment? Read to find out.
I love books about tough-talk­ing girls, and I could not put down The File on Ange­lyn Stark by Cather­ine Atkins. This smart, and smart-mouthed, teen is rough around the edges, and with good rea­son. But she fights to claim the good in her­self, and dis­cov­ers the courage to set her life on a healthy path. She'll make you a believer.
Bird in a Box, by Andrea Davis Pinkney, is a break-out title about the impact box­ing leg­end Joe Louis had on Depres­sion-era Amer­i­ca, in gen­er­al, and on the African Amer­i­can com­mu­ni­ty, in par­tic­u­lar. The voic­es are authen­tic, and often joy­ful, and the his­tor­i­cal detail brings the peri­od to life. An uplift­ing sto­ry about hope and the human spir­it, this would make a great class­room read. The author's note and back mat­ter expand nice­ly on the his­tor­i­cal detail. Fab­u­lous job, Andrea!
Anoth­er nov­el of note for its his­tor­i­cal theme is Between Shades of Gray by Ruta Supetys. This nov­el explores a Holo­caust sto­ry few have heard before. This book reveals the hor­rors suf­fered by cit­i­zens of the Baltic States, under the heels of both Hitler and Stal­in. A pow­er­ful sto­ry of sur­vival, com­pas­sion, and amaz­ing grace. Anoth­er title that cries out for the classroom.
Danc­ing Home by Alma Flor Ada is a small, but impor­tant con­tri­bu­tion to the nation­al dia­logue on immi­gra­tion. This gen­tly writ­ten sto­ry takes read­ers inside the dual­i­ty of being a first-gen­er­a­tion Amer­i­can, with a foot in two cul­tures. The read­er is chal­lenged to exam­ine what it means to be an American.
As most of you know, I am not a fan of pro­fan­i­ty in books for young read­ers, but some­times it's nec­es­sary to make an excep­tion. Com­pul­sion, by Hei­di Ayarbe is one. In this nov­el about a boy wrestling with OCD, the rough lan­guage is a pow­er­ful expres­sion of the severe frus­tra­tion this char­ac­ter expe­ri­ence every day of his life. He strug­gles, and often fails, to hide or con­trol his symp­toms, often tee­ter­ing on the edge of despair. But he nev­er gives up on him­self, and nei­ther will the read­er. This is a great book for engen­der­ing empa­thy for those around us who bat­tle their own dis­or­ders, whether they are phys­i­cal, psy­cho­log­i­cal, or eco­nom­ic. This book is one worth check­ing out.
Miles from Ordi­nary by Car­ol Lynch Williams stole my heart, broke it, and then pieced it back togeth­er. This is a beau­ti­ful book about hope, with a char­ac­ter who emerges in lay­ers. Loved, loved, loved this book!
There's anoth­er Lynch on my list. The won­der­ful Chris Lynch rocked it out with Angry You Man. In this sto­ry about, quite lit­er­al­ly, being our broth­er's keep­er, we are remind­ed to check the tim­ber in our own eyes before judg­ing the mote in some­one else's. That will make lit­tle sense until you read the book, and I sug­gest you do. And, oh yeah, there's a bit of eco-ter­ror­ism thrown in, so I'd call this title rather time­ly. Lynch is a mas­ter of the pow­er­ful voice, so you'll be hooked in no time.
Won­der­struck, by Bri­an Selznick. Need I say more? A light-filled com­bi­na­tion of visu­al and lit­er­al sto­ry­telling, as only Selznick can pro­duce. This tale is rich­ly imag­ined, and gives a glimpse of the World's Fair in NYC, then brings the sto­ry for­ward. This book is a treat. Do your­self a favor and get this one.
OTHER YA BOOKS TO WATCH FOR
Hey 13! by Gary Soto
Paper Cov­ers Rock by Jen­ny Hubbard
Dead End in Norvelt by Jack Gantos
Drag­on Cas­tle by Joseph Bruchac
Camo Girl by Kekla Magoon
Lie by Car­o­line Bock
Bloody Times by James Swan­son (non-fic­tion)
A Girl Named Faith­ful by Richard Bernstein
Joseph's Grace by Sheila Moses
The Sum­mer of Ham­mers and Angels by Shan­non Wiersbitzky
Words in the Dust by Trent Reedy
FOR YOUNGER READERS
Heart and Soul by Kadir Nel­son (absolute­ly stunning!)
Nev­er For­got­ten by Patri­cia McKissack
We Are Amer­i­ca by Wal­ter Dean Myers
The Cheshire Cheese Cat by Car­men Agra Deedy and Ran­dall Wright
Secrets at Sea by Richard Peck
The Flint Heart by Kather­ine and John Paterson
Eliza­'s Free­dom Road by Jer­dine Nolen
St. Louis Arm­strong Beach by Bren­da Woods
So, there you have it! I'm sure I left off some impor­tant titles, but after read­ing 279 books in one sum­mer, I'm doing good to be able to nar­row the list at all! So for­give me. I hope this list gives you a good start­ing-off point. That's the most I can hope for.