For the record, just because a par­tic­u­lar notion is repeat­ed, over and over again, does­n't nec­es­sar­i­ly make it true. The earth is not flat, nor is it the cen­ter of the uni­verse. Peo­ple of African descent are not intel­lec­tu­al­ly infe­ri­or to the white race. And con­trary to what you may have heard, over the years, from (well-mean­ing?) edi­tors and agents, poet­ry can, and does, sell.
Par­don me if I pre­sume to know what I'm talk­ing about, but I am, in fact, sit­ting on a love­ly sofa, set in a small, but beau­ti­ful home, paid for by a career built on writ­ing chil­dren's poet­ry and nov­els-in-verse. I believe that qual­i­fies to say a thing or two on the sub­ject, yes?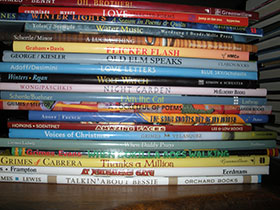 I recent­ly spoke at a con­fer­ence at which I heard it stat­ed, unequiv­o­cal­ly, that poet­ry does­n't sell. When those words hit the air, I want­ed to leap out of my skin. I've been hear­ing that old adage since I first entered this field more than 30 years ago. Had I, for a moment, tak­en that oft-repeat­ed state­ment to heart, I'd have no career. The 50-plus books I've pub­lished, most of them chil­dren's poet­ry, or nov­els-in-verse, would not exist. I would nev­er have won the NCTE Award for Excel­lence in Chil­dren's Poet­ry, nor awards for my body of work, or the ALA Nota­bles, Coret­ta Scott King Award and Hon­ors, or any of the oth­er awards and cita­tions my poet­ry has earned. None of it would exist if I'd believed that well-worn idea.
To be fair, if you are a poet, it is high­ly unlike­ly that you will become wealthy work­ing in this genre, no mat­ter how well you hone your craft. That much is true. But chances are, you already know that. I would wager that most writ­ers, keen on this par­tic­u­lar genre, aren't look­ing to make a killing in the mar­ket­place. They sim­ply have a pen­chant for the lyri­cal line, and a pas­sion for metaphor. Like me, they pen poet­ry because they, quite frankly, can't help them­selves. Poet­ry is in them. It's part of their DNA. Poets don't val­ue their work in terms of fis­cal weight, and that's where we dif­fer from agents and editors.
Agents and pub­lish­ers are in the busi­ness of mak­ing mon­ey by sell­ing books. We all under­stand that, although I wish inter­est in pro­duc­ing a rich and diverse vari­ety of qual­i­ty lit­er­a­ture for the next gen­er­a­tion, were more wide­spread. Still, we should­n't be sur­prised when agents and pub­lish­ers push for vam­pire lore while the genre is hot, or dis­cour­age dystopi­an nov­els when they feel the trend is wan­ing. Not so long ago, writ­ers were dis­suad­ed from cre­at­ing books for teens, as there was yet no per­ceived mar­ket for them. That makes sense, right?
But. Aren't we glad Judy Blume ignored the naysay­ers, back in the bad old days, and wrote nov­els for teens any­way? Aren't we glad Jack Pre­lut­sky and Shel Sil­ver­stein beat the poet­ry drum before verse was in vogue? Aren't we grate­ful for Myra Cohn Liv­ingston, and Eloise Green­field, and Lucille Clifton, and Arnold Adoff, and a host of oth­er poets who've enriched the lives of young readers?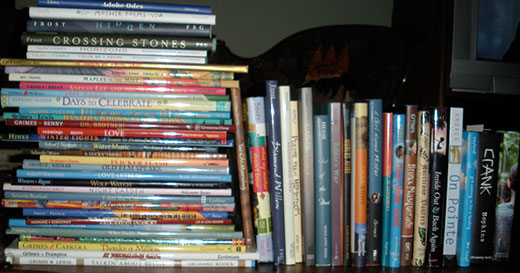 I attend­ed the first inau­gu­ra­tion of Pres­i­dent Oba­ma, in 2009. One of my favorite moments of the cer­e­mo­ny was the read­ing of a poem. I love that poet­ry has played a part in inau­gur­al cel­e­bra­tions of the past. Each time a poet has risen to that great podi­um it is a reminder that this genre has some­thing sub­stan­tial to offer. Poet­ry can pro­voke, chal­lenge, dis­turb. It can soothe our souls, or spur us on to great­ness. It can inspire, uplift, and make the heart soar. How­ev­er, poet­ry can accom­plish none of these things if it is not written.
I'm all for being hon­est with poets about the real­i­ties of the mar­ket­place. I know that poet­ry, in the main, does not sell as well as prose. But it can, and does, sell. Is the field extra­or­di­nar­i­ly com­pet­i­tive? Absolute­ly. Is craft­ing qual­i­ty poet­ry dif­fi­cult? Of course it is. All good writ­ing involves a huge invest­ment of time, ener­gy, and often, research. But that's a lousy excuse for telling a gift­ed poet, who has a han­ker­ing for haiku, who eats and sleeps sim­i­le, who mires him­self in metaphor that he or she should give up the very idea of pen­ning poet­ry as a lit­er­ary career.
Here are a few thoughts: the next time you come across a poet who clear­ly demon­strates a gift for this genre, don't tell him to hide his light under a bas­ket. Instead, tell poets to be smart about their choice of sub­ject, to research the mar­ket to make sure their ideas haven't already been done, to con­sid­er the needs of school cur­ricu­lum and shape their work accord­ing­ly so that their books of poet­ry will be as mar­ketable as pos­si­ble. Encour­age them to con­sid­er nar­ra­tive books in verse—novels, biogra­phies, his­tor­i­cal fic­tion, cre­ative non-fiction.
On the oth­er hand, if the writer has no gift for this genre, tell him so. If his poet­ry is not top­i­cal, tell him that. If his poet­ry is not age-appro­pri­ate, tell him that. If you, per­son­al­ly, lack the know-how, or frankly, the inter­est in sell­ing poet­ry, tell him that. But please, what­ev­er you do, don't tell a poet not to be a poet. That's a bit like telling a leop­ard not to have spots!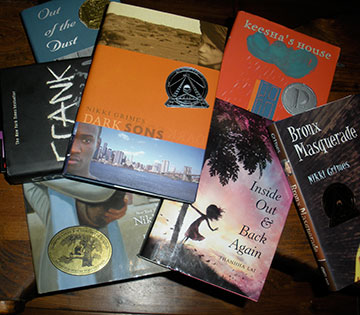 One last thing: While poet­ry may, indeed, be dif­fi­cult to place, it is not impos­si­ble. So please, please stop telling tomor­row's poets that poet­ry does­n't sell. If you do, you might as well tell them that New York Times best­seller Ellen Hop­kins is a fig­ment of our col­lec­tive imag­i­na­tion; that Sonya Sones and Prince Hon­oree Helen Frost do not exist; that New­bery Hon­oree Joyce Sid­man does not exist; that J. Patrick Lewis, and Nao­mi Shi­hab Nye, and Paul B. Janeczko, and Jack Pre­lut­sky, and Sara Hol­brook, and Jamie Adoff, and Tony Med­i­na, and Mar­i­lyn Nel­son, and Geor­gia Heard, and Mar­i­lyn Singer, and X.J. Kennedy, and Jane Yolen, and Mar­gari­ta Engle, and Lee Ben­nett Hop­kins, and Pat Mora, and Allan Wolf, and Gary Soto, and Eloise Green­field, and Nik­ki Grimes, and a host of oth­er work­ing, pub­lish­ing, award-win­ning poets do not exist. And that, my dears, sim­ply isn't true.