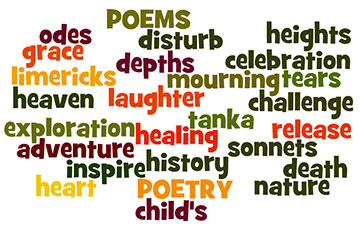 I love a good laugh. I laugh every day. I even make a point of giv­ing oth­ers cause to chuck­le, even if it's some­times at my own expense. Laugh­ter is cleans­ing, heal­ing, and nec­es­sary. God him­self has a phe­nom­e­nal sense of humor. He made us, did­n't he? Yes, laugh­ter is to be appre­ci­at­ed, enjoyed.
That said, I also know there's more to life than laugh­ter, and there's more to chil­dren's poet­ry than light verse. The two are not syn­ony­mous. One might not know that, though, judg­ing from the nar­row pool of chil­dren's poet­ry books that are most often high­light­ed and rec­om­mend­ed. The con­stant slant towards humor­ous verse leads me to cry out for diversity.
Big buzz-word, that! To be clear, I'm not talk­ing about racial or cul­tur­al diver­si­ty in chil­dren's poet­ry. That's anoth­er dis­cus­sion, entire­ly. No, I'm allud­ing to diver­si­ty as to type, top­ic, form. There's a depth and breadth to chil­dren's poet­ry that rarely gets its due, poet­ry specif­i­cal­ly writ­ten for chil­dren that scales the heights of heav­en, plumbs the depth of death, and graces all the notes in between. There are chil­dren's poems that chal­lenge, inspire, dis­turb. There are poems that cre­ate space in a child's heart for the release of tears, as well as laughter—and both are heal­ing. There are lim­er­icks, yes, but also odes, son­nets, tan­ka, and more. There are poet­ry col­lec­tions that explore his­to­ry and the men and women who've shaped it. There are col­lec­tions that take read­ers for adven­tures on the high seas. There are poems that probe the minu­tia of Nature, and the vast­ness of out­er space. This genre is deep, and wide!
As for cul­tur­al diver­si­ty, today's offer­ings include chil­dren's poet­ry by Native Amer­i­cans, Pales­tin­ian Amer­i­cans, Chi­nese Amer­i­cans, Viet­namese Amer­i­cans, Kore­an Amer­i­cans, Latin Amer­i­cans and, yes, African Amer­i­cans. The field of chil­dren's poet­ry is incred­i­bly rich! Let's make sure young read­ers have access to the full range avail­able because it mat­ters. Chil­dren ben­e­fit from see­ing them­selves in all guis­es, in all moods. Some­times, when a child is hav­ing a dif­fi­cult day, rather than a moment of laugh­ter, he most needs a work that reflects his angst, a poem that shows him he is not alone, a poem that acknowl­edges both dark­ness and light in the world—even the world of a child.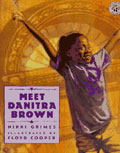 Poet­ry, all forms and facets of poet­ry, can be pow­er­ful. Dr. Joyce Briscoe dis­cov­ered as much, many years ago, when she shared the—then—newly pub­lished Meet Dan­i­tra Brown with stu­dents at Clara Bar­ton Ele­men­tary in Cal­i­for­nia. Her so-called low-achiev­ing stu­dents respond­ed to the work to such an extent that, over time, she devel­oped a sub-cur­ricu­lum around Dan­i­tra Brown and found the mate­r­i­al use­ful in moti­vat­ing both read­ing and writ­ing among stu­dents the sys­tem had writ­ten off. Soon, teach­ers through­out the dis­trict were fol­low­ing her lead. By the time I vis­it­ed Clara Bar­ton, I found poet­ry blos­som­ing every­where, and it was a thing of beauty.
At Bar­ton Ele­men­tary, each grade lev­el was giv­en a poem to mem­o­rize, and then a num­ber of les­son plans revolved around that poem. One class was assigned the poem "Pur­ple," one of the humor­ous, boun­cy poems of the col­lec­tion, and cer­tain­ly a favorite. How­ev­er, one girl in this class told her teacher she pre­ferred to mem­o­rize the poem "Sweet Black­ber­ry":
Dan­i­tra says my skin's like
dou­ble choco­late fudge
cause I'm so dark.
The kids at school say it anoth­er way.
"You so black, girl," they say,
"at night, peo­ple might think
you ain't noth­in' but a piece o' sky."
I nev­er cry, but inside
there's a hurt­ing place.
I make sure no one sees it on my face.
Then mama tells me,
"Next time, hon­ey, you just say
The black­er the berry,
the sweet­er the juice."
Now that's just what I do.
I sure wish I had told them that before.
Those kids don't both­er teasin' me no more.
The teacher asked her why she pre­ferred this poem, and she said, "Because when­ev­er I read it, it makes me feel beau­ti­ful." How's that for power?
Chil­dren haven't changed that much in the inter­ven­ing years. They still have a range of emo­tions to play to. Poet­ry that tick­les the fun­ny bone should only be part of the equa­tion. I encour­age you to explore the poet­ry mar­ket, to jour­ney up and down each aisle. Fill your cart with poet­ry that tick­les the imag­i­na­tion, inspires awe, paus­es on the sub­ject of death, lingers over loss, reveals the cost of war. Add jaw-drop­ping poet­ry about the beau­ty of Nature, the won­ders of sci­ence, the mys­ter­ies of his­to­ry. Choose poet­ry that makes you cry and, yes, poet­ry that makes you laugh. Include them all in the poet­ry diet you feed your stu­dents. Trust each read­er to dis­cov­er his or her favorite dish. Make room for that to hap­pen. Please.
When I first entered the chil­dren's lit­er­ary mar­ket, I felt like an endan­gered species. There did­n't seem to be many poets around. Today, how­ev­er, the mar­ket is pos­i­tive­ly burst­ing with won­der­ful new poet­ic voic­es, and they all deserve to be heard, shared, read. My hope is that they will be, not only for the sake of the poets, but also for the sake of the stu­dents who need pre­cise­ly the gift each poet brings.
Who are some of my favorite con­tem­po­rary poets? The list is incred­i­bly long, but here are a few—a pre­cious few! —in the realm of chil­dren's literature:
[ezcol_1half id="" class="" style=""]Marilyn Nelson
Jane Yolen
Gary Soto
Joyce Sidman
Helen Frost
Nao­mi Shi­hab Nye
Car­ole Boston Weatherford
Lau­ra Pur­die Salas
Paul Janeczko
Janet Wong
Mar­gari­ta Engles
Allan Wolf
Jack Prelutsky
Alice Schertle[/ezcol_1half] [ezcol_1half_end id="" class="" style=""]J. Patrick Lewis
Pat Mora
Kris­tine O'Con­nell George
Joseph Bruchac
Geor­gia Heard
Sara Holbrook
Ralph Fletcher
George Ella Lyon
Jamie Adoff
Eloise Greenfield
April Hal­prin Wayland
Arnold Adoff
Rebec­ca Kai Dotlich
Lee Ben­nett Hop­kins (the world's most pro­lif­ic anthol­o­gist of chil­dren's poetry)[/ezcol_1half_end]
You can also enjoy the work of our US Chil­dren's Poet Laureates:
Jack Pre­lut­sky
Mary Ann Hoberman
J. Patrick Lewis
Kenn Nesbitt
Want a more com­pre­hen­sive list? Hit me up on Face­book.