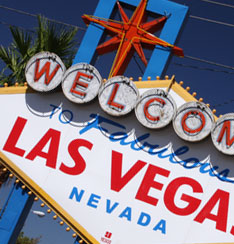 I have a love/hate rela­tion­ship with tele­vi­sion com­mer­cials. For instance, I LOVE the new Old Spice guy. He puts a smile on my face every time I see his beau­ti­ful browns six-pack. (Hey, I'm into hon­esty, here!) Most of the Dove com­mer­cials get my vote. I appre­ci­ate their com­mit­ment to expand­ing the images of beau­ty to include women and girls of every size and shape.
There are more than a few ads, though, that give me pause. Take the cur­rent com­mer­cial for Tide. A mom bor­rows her daughter's sweater and lies about it. She then all but upends the clothes ham­per to hunt for the sweater, uses the prod­uct to remove a stain she got on it, then returns it to her daughter's clos­et. No harm, no foul, right? The mes­sage is that it's okay to bor­row someone's cloth­ing with­out per­mis­sion, and lie about it, so long as you can remove any trace of evi­dence of your crime. Now there's a great mes­sage to send out into the world!
I find some of the Vegas tourism ads espe­cial­ly dis­turb­ing. "What­ev­er hap­pens in Vegas…." You know the tag line. Here's a com­mer­cial invit­ing view­ers to plan a lit­tle "good natured" naugh­ti­ness (huh?), or a short week­end of wild and—dare we say it?—lascivious behav­ior, with the promise that Sin City will lock any proof of your actions in their vault of secrets for all eter­ni­ty. Yeah. That's an idea we want to down­load into the minds of our young. Not.
I can already hear the argu­ments in favor of these com­mer­cials, so let's skip to my rebut­tal. The fact that these ads are tar­get­ing adults is, at best, a lame excuse. We all know under­age view­ers are tak­ing notes, peo­ple. Let's be honest.
Full dis­clo­sure: there are some com­mer­cials of ques­tion­able moral con­tent that make me laugh. These, how­ev­er, are not among them. When I con­sid­er the mes­sages they are send­ing, I real­ize these ads are no laugh­ing matter.
We need to con­nect the dots. There's a rea­son cheat­ing on exams has become more com­mon­place in recent years. There's a rea­son more chil­dren reg­u­lar­ly lie. (Let's not even get into the rise in under­age drink­ing, unpro­tect­ed sex, etc.) We have made, or allowed Madi­son Avenue to make, ques­tion­able or even bad behav­ior a laugh­ing mat­ter. If we want our sons and daugh­ters to change their tunes, we had bet­ter change ours.
Instead of cel­e­brat­ing how clev­er­ly we can hide our indis­cre­tions, what if we were to do, and act, and say things in a way we aren't ashamed for peo­ple to know about—especially our young charges? I'm not sug­gest­ing any of us could, or should be goody-two shoes every day of our lives (like that's going to hap­pen, any­way!). But what about striv­ing, as a whole, to live our dai­ly lives with trans­paren­cy so that we have few­er deep, dark secrets to hide? It's just a thought.
As for the com­mer­cials, if we change, per­haps they will too. It could happen.