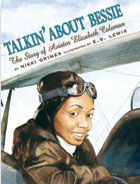 I don't live in real time. Does any­one? It seems the prac­tice of being present has gone the way of the dinosaurs. But I digress. My pro­fes­sion requires me to always think ahead. I'm for­ev­er mired in plan­ning future speak­ing events, book­ing flights, sched­ul­ing school vis­its, prepar­ing future con­fer­ence pre­sen­ta­tions, nav­i­gat­ing book deadlines—always look­ing ahead. So, although it's only Octo­ber, my thoughts are already run­ning to Feb­ru­ary. More specif­i­cal­ly, to Black His­to­ry Month.
I have mixed feel­ings about Black His­to­ry Month. Don't get me wrong. I love the atten­tion on heroes and hero­ines of the African Amer­i­can per­sua­sion, though I see no rea­son not to high­light them year round as part of, say, Amer­i­can His­to­ry. BTW, I loved Chris Crutcher's com­ment on "Col­or Me Per­plexed," in Hunger Moun­tain, regard­ing a bookstore's mind-bog­gling seg­re­ga­tion of black his­to­ry books from Amer­i­can his­to­ry books. As Dya­monde Daniel would say, "Puleeze!" And yes, I get why there's a Black Stud­ies sec­tion in many book­stores, but what about shelv­ing key titles in both sec­tions? Why not shelve a biog­ra­phy of Bessie Cole­man, say, in both the biog­ra­phy and the black stud­ies sec­tions? Who knows? A body might actu­al­ly be able to find the book they want. Okay. Enough on that sub­ject, for now.
Black His­to­ry Month def­i­nite­ly has its plusses. I espe­cial­ly appre­ci­ate some of the won­der­ful films and doc­u­men­taries fea­tured that month on net­work and cable tele­vi­sion. One of the things I do have a prob­lem with, though, is being trot­ted out as the lone black act in a con­fer­ence or book fes­ti­val held dur­ing that month. I often get the dis­tinct impres­sion that the inviter has no par­tic­u­lar lik­ing, pas­sion, or even knowl­edge of my body of work. All that mat­ters dur­ing the month of Feb­ru­ary is the col­or of my skin. Peri­od. My name on the pro­gram takes care of the req­ui­site quo­ta of col­or for the con­fer­ence spon­sor. One black author booked for Black His­to­ry Month. Check!
I rarely accept invi­ta­tions to speak dur­ing the month of Feb­ru­ary. Can you blame me? If some­one wants to pull me away from my writ­ing desk, I pre­fer it be because my work is known and respect­ed, and not because I am the polit­i­cal­ly cor­rect choice for Black His­to­ry Month. I'm just saying.
That said, I've spo­ken to enough librar­i­ans and read­ing spe­cial­ists to know that, in some cas­es, author invi­ta­tions are tied to spe­cial fund­ing for mul­ti­cul­tur­al pro­grams, which can most eas­i­ly be exploit­ed on hol­i­days such as Mar­tin Luther King jr.'s birth­day, or dur­ing Black His­to­ry Month, (or Chi­nese New Year, or Cesar Chavez Day, etc.) For those spon­sors in that posi­tion, by all means, make hay while the sun shines. But do choose an author whose work mat­ters to you and your stu­dents, please. Don't choose him, or her, based on skin col­or alone.
How about we invite, sup­port, rec­og­nize all wor­thy authors—of what­ev­er col­or— year-round? How about that? It's just a thought.