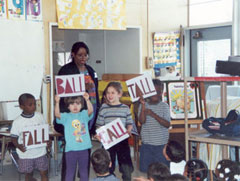 I love my job, and there are few occu­pa­tions I would trade it for. I love writ­ing, of course, and I look for­ward to oppor­tu­ni­ties to meet and speak with teach­ers and librar­i­ans at the var­i­ous con­fer­ences and book fes­ti­vals I attend. The chil­dren's book com­mu­ni­ty is the best! I also enjoy con­nect­ing with young read­ers as I trav­el the coun­try each year vis­it­ing schools. That said, there are some aspects of my occu­pa­tion that cause me to scratch my head.
Recent­ly, an acquain­tance, one I have not set years on in years, casu­al­ly asked me to drop in on her class as a favor and con­duct a sto­ry hour with one of my books. When I declined, explain­ing that school vis­its are some­thing I do pro­fes­sion­al­ly (i.e., some­thing for which I am paid), she became very snip­py with me. Sigh.
In the days that fol­lowed, I found myself won­der­ing if she'd be inclined to ask a car­pen­ter, one who had not laid eyes on her in years, no less, to drop by and build her a book­shelf, just for the fun of it. Or if she'd ask a doc­tor to drop in and give her an exam, for free, just because, you know, he lives near­by. Some­how, I don't think she would. Nor would she expect free ser­vices from any oth­er pro­fes­sion­al, includ­ing anoth­er teacher, which is why her snip­py atti­tude rubs me raw.
To be fair, she is not the only teacher, par­ent, librar­i­an, or fel­low church mem­ber who has casu­al­ly asked me to come work for free. She's sim­ply the lat­est. Yet, for some rea­son, I haven't been able to shake off this most recent exchange. Now I know this piece won't keep peo­ple from treat­ing chil­dren's author like unpaid labor, but some­times a girl's got to vent.
I'm a full-time author and speak­er. Unlike the authors of Har­ry Pot­ter and Twi­light, I am not wealthy, nor is the aver­age chil­dren's author, or adult author, for that mat­ter. Most of us are either in the work­ing-class or low­er mid­dle-class tax brack­et. As such, our earn­ings go towards the usu­al basics: rent or mort­gage, util­i­ties, phone, health insur­ance, and the like. Why do I men­tion this? Because, aside from the occa­sion­al pro­mo­tion­al book tour, we can­not afford to offer speak­ing engage­ments gratis, nor do we have the great reser­voirs of "free time" some seem to imagine.
The author's dai­ly sched­ule is packed with writ­ing, rewrit­ing, copy­edit­ing, con­fer­ence calls with edi­tors, agents, and mar­ket­ing direc­tors. We give inter­views, main­tain web­sites, con­duct research" pre­pare keynote speech­es and work­shop pre­sen­ta­tions. We orga­nize school vis­its, book flights, sched­ule ground trans­porta­tion. We wear many hats, and have to change them mid-dance. Then, of course, there's the ordi­nary stuff of life. You know: shop­ping, laun­dry, house­work. In oth­er words, chil­dren's authors, whether sin­gle or mar­ried, are as busy as any­one else. We ask that you respect and val­ue our time, just as you would wish for us to respect and val­ue yours.
Think twice before you ask us to donate our time and tal­ent. Instead of say­ing to your­self "Would­n't it be nice if Author A dropped by to vis­it my class?", con­sid­er whether, giv­en your own job and respon­si­bil­i­ties, you'd have the time and incli­na­tion to leave your desk, or office, or class­room for a few hours to do the same.
Inter­est­ing­ly enough, on the very day I draft­ed this piece, I received a note from pre­mier poet­ry anthol­o­gist, Lee Ben­nett Hop­kins about a pub­lish­er who had the audac­i­ty to sug­gest that poets should sim­ply write poet­ry for chil­dren's antholo­gies for free. Have they no shame?
To be sure, most of us believe in giv­ing back, no more so than in the chil­dren's book com­mu­ni­ty. We often donate books for fundrais­ing cam­paigns, lend our voic­es to caus­es dear to our hearts, and occa­sion­al­ly offer our time and tal­ent for free, at our largesse. Oth­er­wise, we expect remu­ner­a­tion. And why should­n't we? A ser­vant is wor­thy of his hire, the bible says. That's my word for the day. I hon­est­ly hope you hear it.