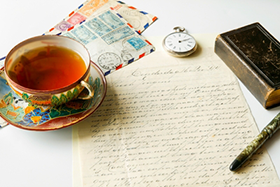 Let­ter writ­ing has become a lost art. I'm sure you've heard that before. I wish it was­n't true. Beyond sim­ply lan­guish­ing in a sea of despond over the mat­ter, though, I do my best to hold the line. I write let­ters, at least ran­dom­ly, if not rou­tine­ly. No mat­ter how much time I need to set aside for the task, I'm nev­er sor­ry that I did.
In recent months, a dear friend of mine lost his part­ner of over 30 years. Her death was both sud­den and gris­ly. As you might imag­ine, her pass­ing left my friend spin­ning. I've buried enough loved-ones to more than empathize.
I was rocked by the news when it reached me, one time-zone and hun­dreds of miles away. Imme­di­ate­ly, I want­ed to cov­er the crack in my friend's heart with my own two hands, but I could­n't. I want­ed to offer my shoul­der for those unut­ter­able moments when he could no longer hold back the tears, but I could­n't. I want­ed to hop on the next plane and, lit­er­al­ly, fly to his side. But, for a host of rea­sons, I could­n't. And yet, I was des­per­ate to be present for my friend.
I sat down to write him a let­ter, one of the things I had it in my pow­er to do. I've writ­ten sev­er­al let­ters since, penned a poem just for him, and sent a col­lec­tion of verse that might bring him a lit­tle heal­ing, a lit­tle light. I sent each with the appro­pri­ate postage, and some­thing more: I sent each with a prayer, and I hoped. I hoped that my mea­ger attempts at being present, from a great dis­tance, would, in some small way, matter.
The oth­er day, I received a card from this friend, with a care­ful­ly word­ed, hand­writ­ten note. The first words made my heart leap:
"Dear­est Nikki,
Thank you, thank you, thank you…"
In the body of the note, my friend let me know that my words on paper had spo­ken hope to his heart; that they had giv­en him glimpses of a future in which he would, once again, be able to step into the light; that my sim­ple words of encour­age­ment and con­nec­tion had mat­tered to him in this extra­or­di­nary time of need, and had mat­tered deeply.
When was the last time you wrote a let­ter? I'm not talk­ing about a hasti­ly dashed-off email, sent between sips of cof­fee, or bites of a ham­burg­er dur­ing lunch. I'm talk­ing about an old-fash­ioned, care­ful­ly con­sid­ered, hand­writ­ten or typed let­ter. When?
I know you're busy. Who isn't? But when did we become so busy that we don't make time for a friend who hungers for the words of encour­age­ment, hope, advice—or even humor—that only we, as friends, can offer? Yes, find­ing the time to write a let­ter can be dif­fi­cult. How­ev­er, when those words mat­ter as deeply as they do, isn't it worth the l sacrifice?
Maybe one day, you trade the time you'd spend hang­ing out on Face­book, or check­ing your Twit­ter feed, to com­pose a let­ter instead. Or maybe you give up one episode of that half-hour sit­com to do the deed. The fact is, time can always be found for the things that mat­ter. All I'm say­ing is, this is one of them.
That's it. That's all I have to say on the sub­ject, except this: What are you wait­ing for? Some­body needs to hear from your heart, and a let­ter can be the per­fect pack­age in which to send it.