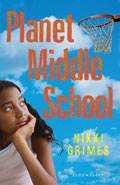 My lat­est nov­el, Plan­et Mid­dle School, was nom­i­nat­ed for an IMAGE Award, the only award for which it was nom­i­nat­ed, in fact. It did­n't win.
Plan­et Mid­dle School received won­der­ful reviews includ­ing one star. It's got­ten great feed­back from fans. Every­one who has read it loves it. But the nov­el did not win an award. Does that matter?
On the eve of the Oscars, my thoughts turn to awards. Actu­al awards are worth sur­pris­ing­ly lit­tle. I'm talk­ing about the medals, stat­uettes, and crys­tal fig­urines them­selves. They cost only a few dol­lars. Yet, we imbue those awards with mean­ing that makes them seem price­less. But, why?
Sup­pose I write a great book, but a pan­el of three, or six or twelve judges deem anoth­er book to be the year's "best." Is my great book no longer great? Is great no longer good? Is good no longer good enough?
Here's a thought. We are not called to be the best. We are called to be our best. It's cru­cial that we under­stand the dif­fer­ence between the two.
I love watch­ing fig­ure skat­ing. It is the sport I fol­low most close­ly dur­ing the Win­ter Olympics. But one thing that always dis­turbs me is how often win­ning sil­ver or bronze for an event is treat­ed as a fail­ure. All the emphasis—by ath­letes, coach­es, and com­men­ta­tors alike—is on the gold. Win the gold and, well, you're gold­en. Win any­thing less and so, it seems, are you. That's cer­tain­ly the way Debi Thomas felt the year she was beat out by Kata­ri­na Witt for the top prize. She took home the bronze in the ladies com­pe­ti­tion, the first African Amer­i­can woman to do so, as I recall. Yet, her third-place fin­ish was prac­ti­cal­ly mourned.
How many hun­dreds of ath­letes did every skater, ski­er, luger, have to beat out to even win a place on that Olympic team? For my mon­ey, any­one who makes the team is already a win­ner. How about cel­e­brat­ing that? The argu­ment works for authors, as well.
I remem­ber the first book con­ven­tion I attend­ed. it was the ABA con­fer­ence held in Las Vegas (yes, I'm dat­ing myself. This con­fer­ence is not even called ABA any­more. But nev­er mind.) I walked onto the exhib­it floor and gasped. There were acres of books laid out before me, a sight I'd nev­er even imagined.
As I strolled down aisle after aisle, past booth after book filled with new­ly pub­lished books, I won­dered how on earth I would ever make my mark in a field so enor­mous. Then, the impos­si­ble hap­pened. I did. So did a lot of oth­er authors.
A few authors, a pre­cious few, have won the New­bery, the gold medal of chil­dren's lit­er­a­ture. I'm not one of them, but I am in great com­pa­ny. (Jane Yolen, any­one? Gary Schmidt? What about Nao­mi Shi­hab Nye? The list is too, too long.) Does not win­ning the New­bery mean that our books aren't good, or even great? Of course not.
We have all made the team.
We are already winners.
Out of the thou­sands, upon thou­sands, of man­u­scripts sub­mit­ted to pub­lish­ers each year, ours were select­ed for pub­li­ca­tion. Ours were noticed. Ours won fans. Ours moved read­ers to laugh­ter and tears. We need to let that be enough. I need to let that be enough.
Say it with me: We are not called to be the best. We are called to be our best. You can't get bet­ter than that.