In 1991, I left my job as an edi­tor for Dis­ney Pub­li­ca­tions to work on my own books, full time. One of the first books I wrote after my exit was a sto­ry of friend­ship titled Meet Dan­i­tra Brown.
When I sat down to write this book, I was very clear about the small sto­ries I want­ed to tell, many of them drawn from my own child­hood. I was equal­ly clear about my char­ac­ters, name­ly the spunky, self-pos­sessed Dan­i­tra Brown, and the smart and sen­si­tive Zuri Jack­son. You would think, then, that the book would have been a snap to write, yes? But it was­n't. I poured over the man­u­script for weeks, writ­ing and rewrit­ing chap­ters that did­n't seem to be going any­where, and I could­n't fig­ure out why. Final­ly, I grabbed a high­lighter and went though the man­u­script, mark­ing those pas­sages that were work­ing, in the hopes that the exer­cise would give me a clue. And it did.
I care­ful­ly reviewed my work-in-progress and not­ed that each and every one of the pas­sages that were work­ing read like poet­ry. Ding, ding, ding! This sto­ry want­ed to be told as a col­lec­tion of poems! I'm a lit­tle slow, but I'm no dum­my. I oblig­ed! I've been telling sto­ries in suites of poet­ry ever since.
Strange­ly, I nev­er stopped to ask myself if one could, or should, write a sto­ry in poet­ry. Was that even a thing? I did­n't know, but I wrote one any­way. Years lat­er, of course, I real­ized there was, in fact, a very long tra­di­tion of sto­ry­telling through poet­ry. I, how­ev­er, had nev­er read The Ili­ad or The Odyssey. Instead, I'd stum­bled upon the idea of the form—as sim­plis­tic as mine may be—out of neces­si­ty. I had a sto­ry to tell, and my sto­ry refused to be told in any oth­er way.
Meet Dan­i­tra Brown, which won a Coret­ta Scott King Hon­or Award for Illus­tra­tion, has been a pop­u­lar title for poet­ry lovers, and a sta­ple in poet­ry units, for more than a decade. It was fol­lowed by Dan­i­tra Brown Leaves Town and Dan­i­tra Brown Class Clown.
Fans of the books hold Dan­i­tra Brown close to their hearts, and I espe­cial­ly love how real she's become to young read­ers. I've explained to count­less stu­dents, over the years, that Dan­i­tra is a fic­tion­al, com­pos­ite char­ac­ter. They all nod their heads as if they under­stand, and then they turn right around and ask, "So, when was the last time you saw Danitra?"
One of my favorite sto­ries to share, in that regard, comes from a young woman who wrote to tell me how spe­cial Dan­i­tra was in her life.
As a young girl, she'd suf­fered the loss of her moth­er. Her grand­moth­er, who took her in, gave her a copy of Meet Dan­i­tra Brown. The young girl was con­vinced this book had been writ­ten specif­i­cal­ly for her, as the names of the char­ac­ters in the book and its sequels, matched the names of her own relatives.
The girl grew up, of course, and began to real­ize her mis­take. Nev­er­the­less, she con­tin­ued to trea­sure her con­nec­tion to this char­ac­ter. She thanked me for writ­ing the book, told me how it helped her through a dif­fi­cult time in her life, and singed the let­ter "Sin­cere­ly, Dan­i­tra Brown."
Well kids, turns out the joke was on me. There real­ly is a Dan­i­tra Brown! Love it.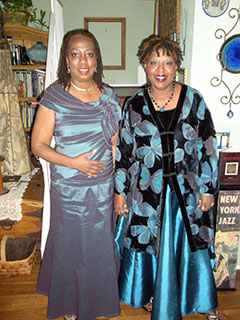 The sto­ry of the art is inter­est­ing, as well. The book, illus­trat­ed by Floyd Coop­er, fea­tures char­ac­ters loose­ly based on myself and my child­hood best friend, Debra. When her moth­er saw the F&G's, she said, "Oh! I see you sent the illus­tra­tors pho­tos of the two of you." In fact, I had­n't! Yet, some­how, through an alche­my I don't quite under­stand, Floyd had cho­sen mod­els to rep­re­sent the char­ac­ters who close­ly resem­bled me and my friend at the ages of those char­ac­ters. Spooky, huh? That's hap­pened to me with sev­er­al dif­fer­ent books, and sev­er­al dif­fer­ent illus­tra­tors. Weird, but wonderful!
I'll leave you with one of my favorite poems from Meet Dan­i­tra Brown. This is titled "Sweet Black­ber­ry."
Dan­i­tra says my skin's like dou­ble choco­late fudge
'cause I'm so dark.
The kids at school say it anoth­er way.
"You so black, girl," they say,
"at night, peo­ple might thin
you ain't noth­in' but a piece o' sky."
I nev­er cry, but inside there's a hurt­ing place.
I make sure no one sees it on my face.
Then mama tells me, "Next time, hon­ey, you just say
The black­er the berry, the sweet­er the juice."
Now that's just what I do.
I sure wish I had told them that before.
Those kids don't both­er teasin' me no more.