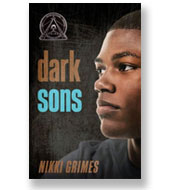 When­ev­er I'd sit in church lis­ten­ing to yet anoth­er ser­mon about Abra­ham and Isaac, I'd always think to myself, "Yeah, but what about Ish­mael?" I've heard maybe three ser­mons about Ish­mael in the last two years, but before then, I can't remem­ber ever hav­ing heard a sin­gle one, which, of course, made me curi­ous. What was the deal with Ish­mael? With every year that passed, my curios­i­ty grew until final­ly, I grabbed a lit­er­ary shov­el and dug into the sto­ry myself.
What did I find? A racial­ly and cul­tur­al­ly diverse teen, jeal­ous of his half-broth­er, estranged from his step­moth­er, aban­doned by his father, and wrestling with his faith. This was all so famil­iar. I knew scores of boys like that. They'd walked the streets of every neigh­bor­hood I'd ever lived in. As Ish­mael's sto­ry got its hooks into me, I felt com­pelled to tell it.
Dark Sons is a nov­el-in-verse that tells two par­al­lel sto­ries. One is about Ish­mael, son of Abra­ham, and the sec­ond is about Sam, a con­tem­po­rary teen liv­ing in New York City, who is wrestling with sim­i­lar issues.
When I began work­ing on the book, my inten­tion was sim­ply to tell Ish­mael's sto­ry. How­ev­er, halfway through, I decid­ed to cre­ate a par­al­lel sto­ry that would under­score just how time­ly and rel­e­vant Ish­mael's thou­sands-of-years-old sto­ry real­ly is.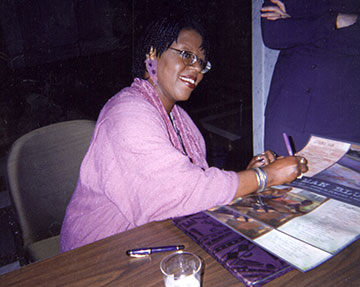 Dark Sons, as you might imag­ine, was a research-heavy book. I'm always extra care­ful when­ev­er han­dling scrip­tur­al mate­r­i­al and so, in addi­tion to study­ing the Bible, con­cor­dances, atlases, var­i­ous texts about dai­ly life in ancient Israel, and the like, I trav­eled to New York to do addi­tion­al research at Hebrew Union Col­lege, where I inter­viewed sev­er­al Old Tes­ta­ment schol­ars and Gen­e­sis experts.
It's always amaz­ing to me what tiny bits of infor­ma­tion can bring a sto­ry to life. Of course, I nev­er know which bits I'll end up using. For this book, those bits includ­ed the months of the Jew­ish cal­en­dar, feast days, weath­er pat­terns, and foods, among oth­er things.
Besides the obvi­ous task of paint­ing the world of the sto­ry, I also had to work on stay­ing in voice as I moved from Ish­mael to Sam and back again. Call me crazy, but I rel­ish the men­tal and emo­tion­al gym­nas­tics of mov­ing back and forth from one voice to anoth­er. I sup­pose it's because I'm a suck­er for a challenge!
I love the way writ­ing sto­ries gives me the oppor­tu­ni­ty to blend my own, some­times piv­otal expe­ri­ences into the lives of the char­ac­ters in my books. For exam­ple, in Dark Sons, on a day when Sam feels espe­cial­ly iso­lat­ed and in despair, he catch­es sight of a sign trailed across the sky by an air­plane, a sign that read "I am with you always —Matthew 28:20." That's some­thing that actu­al­ly hap­pened to me, once. I was feel­ing par­tic­u­lar­ly dis­tressed and alone one day as I was won­der­ing through Cen­tral Park, and some­thing told me to look up. My breath caught, then I let out a long, slow sigh. I remem­ber feel­ing com­fort­ed, not by the sign itself, but because it showed up, as it did, at exact­ly the moment I need­ed it most. In draft­ing Dark Sons, I got to pass that expe­ri­ence on, in a way. I love that.
I'll close with the poem in ques­tion, titled "Signs."
Look­ing to length­en the distance
between me and home,
I train it to 59th Street,
jet through the sub­way doors
and run around Cen­tral Park
in no par­tic­u­lar direction,
try­ing to leave my anger in the wind.
What's it get you, anyway,
being mad at God?
"It's not like You listen!"
I scream at him.
My dad's gone,
my mom is a holy mess.
So where does that leave me, huh?
Alone. Like You care."
Out of air
I col­lapse on the new grass,
blind to the explo­sion of spring green.
I blink up at the Etch A Sketch
of sky­scrap­ers, gray on gray,
just the way I feel.
I rub the wet­ness from my eyes
and let them rest on the sky.
Then I see it.
A lane pass­ing overhead
trail­ing a sign that says,
I AM WITH YOU ALWAYS.—Matthew 28:20
My heart rate slows.
I close my eyes,
whis­per the famil­iar verse
In its entirety:
" 'I am with you always,
even to the end of the age.' "
I let the truth of it in,
feel my thoughts stop spinning
and calm­ly head back
to the subway.