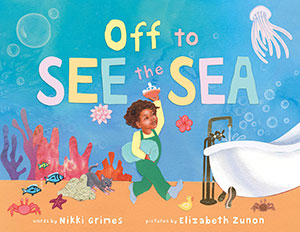 writ­ten by Nik­ki Grimes
illus­trat­ed by Eliz­a­beth Zunon
Source­books Jab­ber­wocky
Jan­u­ary 12, 2021
Bath time is full of magic.
The faucet flows like a water­fall, the bath­room floor is a dis­tant shore, toy boats sail against the waves. An imag­i­na­tion-fueled adven­ture on the high seas is just what it takes to get lit­tle one clean.
The lov­ing African Amer­i­can fam­i­ly from Grimes and Zunon's Bed­time for Sweet Crea­tures (2020) returns for anoth­er night­time rou­tine trans­formed through play and imag­i­na­tion. When the moth­er announces it's bath time, her young child runs and hides, only to be lured to the tub by the promise of bath-time mag­ic. And just like that, the water pour­ing from the faucet becomes a water­fall and the child a swim­mer in a "soft-scent­ed sea." Chil­dren will delight as the young pro­tag­o­nist imag­ines all kinds of adven­tures dur­ing the bub­ble bath, from escap­ing mon­sters (a yel­low rub­ber duck­ie) and div­ing deep beneath the sea to crash­ing through rough water in a tug­boat (a toy from Dad­dy) and splash­ing against the waves cre­at­ed by busi­ly kick­ing legs. Using sev­er­al mediums—oil and acrylic paint, cut-paper col­lage, gel pen, and marker—Zunon employs a lay­ered approach to cre­ate vibrant illus­tra­tions that won­der­ful­ly blend real­is­tic ele­ments with those of the unfold­ing fan­ta­sy. The use of detail, from the soft­ly drawn tow­el to the rain­bow-slicked reflec­tions of the main char­ac­ter in soap bub­bles, cre­ates evoca­tive scenes that ping the sens­es. Grimes' lan­guage also con­tributes to the book's sen­so­ry effect, as words like slip-slid­ing, gig­gling, crash, and splash add to the story's joy and dra­ma. This ebul­lient account of a com­mon child­hood expe­ri­ence bursts with love and uni­ver­sal appeal. (Book­list, starred review)