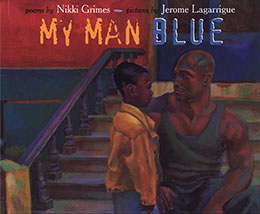 writ­ten by Nik­ki Grimes
illus­trat­ed by Jerome Lagar­rigue
Dial Books for Young Read­ers, 1999
Find this book at your favorite library or used bookseller.
The game is/Seventeen to four
But scoring/Isn't why we run
And dribble/And jump
While some/Aim guns.
We hit/The hoops
And shoot/For fun.
from My Man Blue
© 1999 by Nik­ki Grimes
100 Titles for Read­ing and Sharing
Bank Street Col­lege Chil­dren's Book of the Year
ABA-CBC Chil­dren's Books Mean Business
Book­list Edi­tor's Choice
Book Links Last­ing Con­nec­tion Book
Capi­tol Choice Chil­dren's Book
Mar­i­on Van­nett Ridg­way Award
Newsweek Best Chil­dren's Pic­ture Books of the Year
New York­er Christ­mas Round-up
River­bank Review Chil­dren's Books of Dis­tinc­tion Finalist
Soci­ety of School Librar­i­ans Inter­na­tion­al Hon­or Book
This against-the-odds book from Grimes…tells of an African-Amer­i­can boy liv­ing in a neigh­bor­hood that cuts him no slack, and the man who helps keep his feet ground­ed and his self-esteem steady against the occa­sion­al buf­fet­ing of his peers … an old friend of the moth­er's intro­duces him­self: Blue, a rather steely char­ac­ter wrapped in shades and enig­ma. Damon (who has just lost his father) is wary of Blue; he gives the man a chance only when it becomes evi­dent that Blue is not about to move in on Damon's home turf … Blue … offers advice of haiku-like sim­plic­i­ty … anger is a dan­ger­ous waste, fear use­less unless sub­vert­ed, men don't hit women … Lagar­rigue's illus­tra­tions are brood­ing gar­dens of col­or … while Damon's cool earnest­ness … courage and inde­pen­dence — bright­en each page. (Kirkus Reviews, starred review)
Find this book at your favorite library or used bookseller.