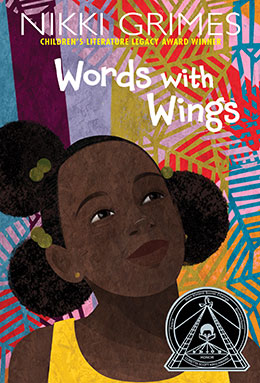 writ­ten by Nik­ki Grimes
Word­song, 2013
hardcover
paperback
e‑book
audio book
nar­rat­ed by Mutiy­at Ade-Salu
Gab­by's world is filled with day­dreams. For her,
"Some words
sit still on the page
hold­ing a sto­ry steady …
But oth­er words have wings."
Now, what began as an escape from her par­ents' argu­ments has tak­en over her life. But with the help of a new teacher. Gab­by the dream­er might just become Gab­by the writer. Writ­ten in vivid, acces­si­ble poems, this verse nov­el is a cel­e­bra­tion of one girl's indomitable spir­it and of a teacher's abil­i­ty to reach out and change a life.
Chil­dren's Lit­er­a­ture Assembly
2014 Notable Chil­dren's Books in the Eng­lish Lan­guage Arts
Nation­al Coun­cil of Teach­ers of English
Coret­ta Scott King Author Hon­or book
Junior Library Guild
Kirkus Reviews Best Books of 2013
Lee Ben­nett Hopkins/Penn State Award mas­ter list
Mary­land Black-Eyed Susan Book Award final­ist, 2015–2016
Mighty Girl "75 Mighty Girls Books for Tweens' Sum­mer Read­ing List"
Nerdy Book Club finalist
Neva­da Young Read­er Award Final­ists for the Young Read­er 2016
Penn­syl­va­nia Key­stone to Read­ing Ele­men­tary Book Award finalist
In this delight­ful­ly spare nar­ra­tive in verse, Coret­ta Scott King Award–winning Grimes exam­ines a marriage's end from the per­spec­tive of a child. Set most­ly in the wake of her father's depar­ture, only-child Gab­by reveals with mov­ing clar­i­ty in these short first-per­son poems the hard­ship she faces relo­cat­ing with her moth­er and nego­ti­at­ing the fur­ther loss of a good friend while try­ing to adjust to a new school. Gab­by has always been some­thing of a dream­er, but when she begins study in her new class, she finds her thoughts stray­ing even more. She admits: "Some words / sit still on the page / hold­ing a sto­ry steady. / … / But oth­er words have wings / that wake my day­dreams. / They … / tick­le my imag­i­na­tion, / and car­ry my thoughts away." To illus­trate Gabby's inner wan­der­ings, Grimes' nar­ra­tive breaks from the present into episod­ic bursts of vivid poet­ic rem­i­nis­cence. Luck­i­ly, Gabby's new teacher rec­og­nizes this inabil­i­ty to focus to be a cop­ing mech­a­nism and devis­es a dai­ly activ­i­ty designed to har­ness daydreaming's cre­ativ­i­ty with a remark­ably pos­i­tive result for both Gab­by and the entire class. Through­out this fine­ly wrought nar­ra­tive, Grimes' free verse is tight, with per­fect breaks of line and effort­less shifts from real­i­ty to dream states and back. An inspi­ra­tional explo­ration of car­ing among par­ent, teacher and child — one of Grimes' best. (Kirkus Reviews, starred review)
Gab­by, named for the angel Gabriel, is a day­dream­er, and words fire her imag­i­na­tion, cre­at­ing new worlds for her to inhab­it. After her par­ents sep­a­rate, and Gab­by must go to a dif­fer­ent school, her day­dreams become increas­ing­ly vivid, intrud­ing on the real­i­ties of class­room and school­work. To Gabby's occa­sion­al puz­zle­ment, her moth­er wor­ries ("Mom names me for a / crea­ture with wings, then won­ders / what makes my thoughts fly"), but her won­der­ful new teacher is more patient, wise­ly help­ing her cap­ture her day­dreams on paper and inspir­ing a new dream to become an author: "Dad is a dream­er / and Mom is a mak­er. / I've been think­ing, / maybe / I can be / both." Grimes, recip­i­ent of the 2006 NCTE Award for Excel­lence in Poet­ry for Chil­dren, has writ­ten a nov­el in verse that is an enthu­si­as­tic cel­e­bra­tion of the pow­er of words and imag­i­na­tion and a dra­mat­ic demon­stra­tion that day­dream­ers are, as Gab­by hopes, "cool." Always acces­si­ble, Grimes' lan­guage is vivid, rhyth­mic, and fig­u­ra­tive: Gab­by says her dreams, are "fan­cy danc­ing in my mind," for exam­ple, and thoughts of a cir­cus are a "tram­po­line to the big top." Plain or fan­cy, Grimes' words speak to the day­dream­er in every read­er. (Michael Cart, Book­list, starred review)
Grimes packs sub­stan­tial emo­tion­al heft into her poems … her poems lov­ing­ly con­vey the rich inner life (and tur­moil) of a girl in the process of find­ing her voice. (Pub­lish­ers Week­ly)
"The imagery in her work is bril­liant­ly cap­tured with spon­ta­neous, con­cise, illu­mi­nat­ing lan­guage." Read the review in its entire­ty. (Michael Strick­land, Young People's Pavil­ion, Yahoo! Voice)
hardcover
paperback
e‑book
audio book
nar­rat­ed by Mutiy­at Ade-Salu