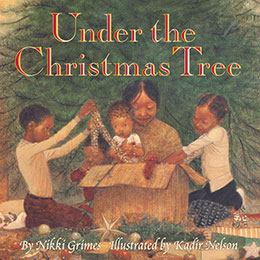 writ­ten by Nik­ki Grimes
illus­trat­ed by Kadir Nel­son
Harper­Collins, 2002
Find this book at your favorite library or used bookseller.
The angel smiles
Atop the tree
And proves me right.
She's hap­pi­est there
Poised for flight.
Halo kiss­ing the ceil­ing
Feel­ing clos­er to home."
from Under The Christ­mas Tree
© 2002 by Nik­ki Grimes
Soci­ety of Illus­tra­tors Sil­ver Medal
100 Titles for Read­ing and Sharing
With any luck, San­ta's sack will be filled with copies of this gem of a pic­ture book. Grimes … offers glimpses of Christ­mas­time from a child's eyes, in the form of 23 poems that shine with all the hall­marks of the sea­son. Her text is uni­ver­sal in sen­ti­ment, but telling in its detail, as when a child waits for her can­dle to be lit at a Christ­mas Eve service…or dreams of join­ing the skaters she watch­es, carv­ing fig­ure eights in an ice rink … Expert light­ing suf­fus­es his [Kadir Nel­son's] inte­ri­ors with a gold­en hol­i­day glow." (Pub­lish­ers Week­ly, starred review)
Grimes and Nel­son are ide­al col­lab­o­ra­tors for this cel­e­bra­tion of the sights, sounds, and feel­ings of Christ­mas from a child's point of view. Twen­ty-three poems take read­ers through the sea­son, focus­ing on the life of an urban African-Amer­i­can fam­i­ly. … Nel­son's real­is­tic paint­ings in rich, mut­ed col­ors and soft tex­tures mas­ter­ful­ly por­tray the warmth and joy of the selec­tions. This is a trea­sure that fam­i­lies will want to share every ear." (School Library Jour­nal, starred review)
Find this book at your favorite library or used bookseller.