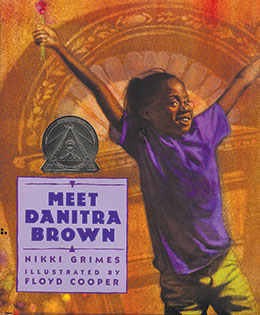 writ­ten by Nik­ki Grimes
illus­trat­ed by Floyd Coop­er
Harper­Collins, 1994
from the book:
Some kids at school have a mom and a dad.
I've got Mom and me only.
On Par­ents' Night it makes me mad
that it's Mom and me only.
"You've got it good," Dan­i­tra says when I am sad.
"Your mama loves you twice as much. Is that so bad?"
Dan­i­tra knows just what to say to make me glad.
With her around, I'm nev­er lonely.
from Meet Dan­i­tra Brown
© 1994 by Nik­ki Grimes
ALA Notable Book
Coret­ta Scott King Award Hon­or Book
ABA-CBC Back­list title
100 Titles for Read­ing and Sharing
1996–97 Sequoy­ah Chil­dren's Book Award Masterlist
1996–97 Ten­nessee Vol­un­teer State Book Award Nominee
1997–98 Penn­syl­va­nia Young Read­ers' Choice Mas­ter List
… an African-Amer­i­can girl sings the prais­es of her best friend and their spe­cial rela­tion­ship … Grimes's poet­ry … smooth­ly describes a num­ber of vignettes and links them with con­sis­tent themes … (Pub­lish­ers Week­ly, starred review)
"In a live­ly cycle of 13 poems by the author of Some­thing On My Mind (1978), Zuri Jack­son cel­e­brates her vibrant best friend Dan­i­tra: 'the most splen­dif­er­ous girl in town' … Dan­i­tra shares work, play and con­fi­dences with equal verve, knows how to defuse a mean tease or com­fort a friend, and loves to wear pur­ple … The joy­ous por­tray­al will appeal to a broad age range. (Kirkus Reviews)
The poignant text and love­ly pic­tures are an excel­lent col­lab­o­ra­tion, result­ing in a look at touch­ing moments of friend­ship with uni­ver­sal appeal. (School Library Jour­nal)