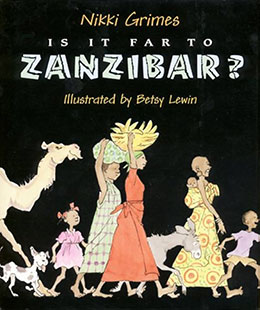 writ­ten by Nik­ki Grimes
illus­trat­ed by Bet­sy Bowen
Lothrop/HarperCollins, 2000
Find this book at your favorite library or used bookseller.
An excerpt from the book:
Go to Zanz­ibar to see
a nut­meg bush, a cashew tree,
cloves and gin­ger grow­ing wild,
chili pep­pers hot and mild,
cin­na­mon and gar­lic plants
blos­som­ing among the ants.
Traders come from near and far
for all that grows in Zanzibar.
from Is It Far to Zanz­ibar?
© 2000 by Nik­ki Grimes
Par­ents' Choice Award
Bank Street Col­lege Best Book of the Year
Grimes's long career in prose and poet­ry exhibits a breath­tak­ing range in tone and style, but gen­er­al­ly focus­es on urban African-Amer­i­can envi­ron­ments. In Is it Far to Zanz­ibar? she ven­tures off the famil­iar urban stage into the exot­ic world of Tan­za­nia. … The tone is as light and refresh­ing as the lus­cious fruit Grimes describes in 'Many Man­goes': "Ripe and sweet, juicy meat/A few shillings only for a tasty treat." There are no deep issues here, just the plea­sure and enlight­en­ment of step­ping into anoth­er life for awhile … But Grimes also wise­ly bridges the cul­tur­al gap … shows how, in some ways, Tan­zan­ian chil­dren are not so very dif­fer­ent from their West­ern cousins … Is it Far to Zanz­ibar? offers a live­ly … peek at the great big world that lies beyond one's bed­room. (New York Times)
Spiced with Swahili words, Grimes…verses intro­duce a jam-packed bus, ani­mals, foods, the mar­ket­place, and sev­er­al mis­chie­vous chil­dren. Her impres­sions are the result of a year spent in this East African coun­try … yet there is a uni­ver­sal appeal too … A list defin­ing the Swahili words … and a bare-bones map of the coun­try com­plete this com­pelling pack­age. (Kirkus Reviews)
Find this book at your favorite library or used bookseller.