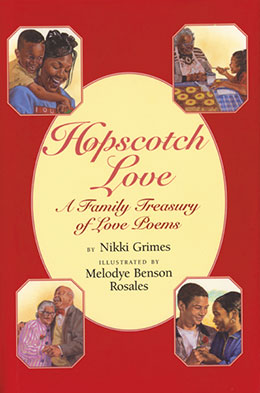 writ­ten by Nik­ki Grimes
illus­trat­ed by Melodye Ben­son Rosales
Lothrop/HarperCollins, 1999
Find this book at your favorite library or used bookseller.
A Family Treasury of Love Poems
An excerpt from the book:
My sis­ter and I dream of adoption—someday.
In the dream, we're nev­er apart.
Then this nice lady comes to the group home
With a girl-shaped hole in her heart…
My age was clos­est to her boy's
So she asked if I want­ed to go.
I squeezed my sis­ter's trem­bling hand
And whis­pered, "Thanks, but no."
from Hop­scotch Love
© 1999 by Nik­ki Grimes
Twen­ty two poems, with var­ied meter and rhyme schemes, trans­form every­day sit­u­a­tions into won­der­ful human expe­ri­ences about lov­ing and car­ing. Some poems are humor­ous, oth­ers philo­soph­i­cal, and sev­er­al become social com­men­tary … This is a gem of a lit­tle book that bub­bles with joy­ous affir­ma­tion of rela­tion­ships. (Boston Globe)
A fresh cel­e­bra­tion of love … The 22 selec­tions run the gamut of all types of affec­tion, from teenaged crush­es to the feel­ings between sib­lings and the bonds between chil­dren and their par­ents … Grimes has expressed a wide range of emo­tions in this col­lec­tion, and each poem val­i­dates the impor­tance of love in that sit­u­a­tion … This small trea­sury will lift read­ers' spir­its and touch their hearts. (School Library Jour­nal)
Poems about love indeed hop­scotch among the gen­er­a­tions, and every one of the 22 entries tells a sto­ry … Grimes and Ros­ales suc­ceed in impart­ing the small, telling moments in lov­ing rela­tion­ships. (Kirkus Reviews)
Find this book at your favorite library or used bookseller.