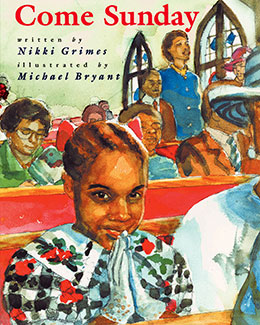 writ­ten by Nik­ki Grimes
illus­trat­ed by Michael Bryant
Eerd­mans Books, 1996
Find this book at your favorite library or used bookseller.
from the book:
I wish we passed a bas­ket down each row.
That way, only I would know
how many dimes I gave to God
and how many I kept for me…
Dad­dy says to give what­ev­er God tells me to,
which is what I usu­al­ly do—
unless I need an ice-cream cone,
and even then, if I'm alone,
I offer God a lick.
from Come Sun­day
© 1996 by Nik­ki Grimes
ALA Notable Book
Cal­i­for­nia Read­ers Cal­i­for­nia Col­lec­tion — ele­men­tary schools list
In live­ly and deli­cious poet­ry, accom­pa­nied by evoca­tive, full-col­or illus­tra­tions, Nik­ki Grimes recounts LaTasha's Sun­day adven­tures in Par­adise — Par­adise Bap­tist Church, that is. From ris­ing in the morn­ing, to greet­ing the blue-haired ladies at church, to the soft and pow­er­ful voice of the vis­it­ing lady preach­er, the church offer­ing, a bap­tism, a church sup­per, and final­ly home to bed, Grimes brings the expe­ri­ence of Sun­days at church to life. Rev­er­ent, fun­ny and wild­ly ener­getic all at the same time, this is a won­der­ful book for intro­duc­ing chil­dren to church life. (Pub­lish­ers Week­ly, starred review)
At the end of the long, joy-filled day, LaTasha is sleepy and glad she spent "anoth­er day in Par­adise." … What­ev­er their reli­gious back­ground, read­ers will smile at the jubi­la­tion. (Kirkus Reviews)
Read­ing Nik­ki Grimes' delight­ful col­lec­tion of poems … is like tak­ing a trip to church through the eyes and mind of a lit­tle girl… This lit­tle girl's love of church is cer­tain­ly the kind of expe­ri­ence many par­ents would hope their own chil­dren would have Come Sun­day. (Detroit Free Press)
Find this book at your favorite library or used bookseller.