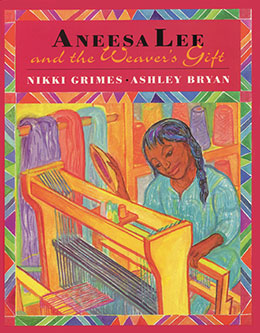 writ­ten by Nik­ki Grimes
illus­trat­ed by Ash­ley Bryan
Amis­tad / Harper­Collins, 1999
Find this book at your favorite library or used bookseller.
Aneesa Lee and the Weaver's Gift
from the book:
Aneesa Lee would soon­er weave than any­thing —
A scarf in win­ter or lacy shawl in spring,
A band of satin rib­bon for her hair,
A belt of turquoise cot­ton cord to wear.
Aneesa soft­ly hums and weaves away
The min­utes and the hours f of the day,
And rolls the cloth of time upon her loom
Till yards of night unfold inside her room
from Aneesa Lee And The Weaver's Gift
© 1999 by Nik­ki Grimes
Amer­i­can Book­seller Pick-of-the-List
Par­ents' Choice Award
A Book Links Last­ing Con­nec­tion Book
In a series of thought­ful, inter­lock­ing poems, Grimes (Meet Dan­i­tra Brown) skill­ful­ly uses the metaphor of weav­ing to explore the world of a tal­ent­ed girl. The young weaver's strands of black, white and Japan­ese her­itage have 'pro­duced a pleasing/living, breath­ing tapestry/christened Aneesa Lee.' The poet reveals Aneesa Lee's life and thoughts through the intri­cate pat­terns of her work … ('a her­ring­bone of sadness/threads of anger and glad­ness'; 'Her yarns express her deep­est thoughts/in var­ie­gat­ed tints'). The themes of the book — fam­i­ly, com­mu­ni­ty, artis­tic vision, ded­i­ca­tion to craft and love — build to a res­o­nant cli­max … For adult weavers, the book will be a trea­sure, and for chil­dren, it serves as a glimpse into the intri­ca­cies not only of weav­ing, but the pat­terns of dai­ly life. (Pub­lish­ers Week­ly)
Find this book at your favorite library or used bookseller.